'Great film and video production': RT America grabs 10 accolades in honored Annual Telly Awards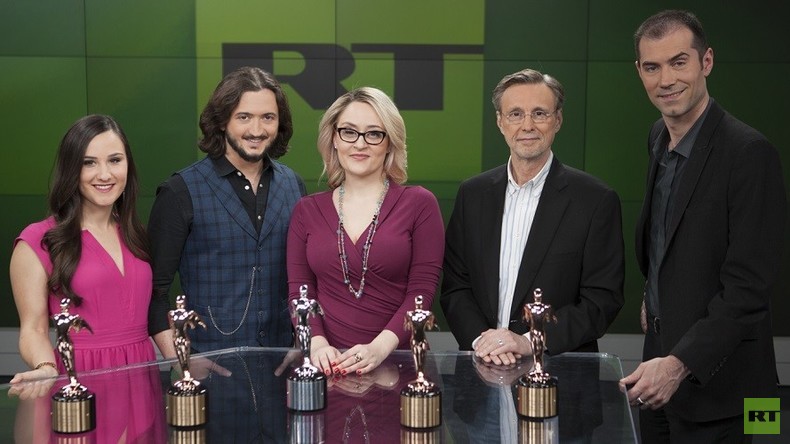 RT America has bagged 10 awards in the Annual Telly Awards for the excellence of its works in three out of four categories from among 13,000 entries from all over the US. Four of the channel's honors are People's Telly, thanks to your recognition and votes.
Among the winners are two episodes of 'The Big Picture with Thom Hartmann', two RT America News features, a 'Redacted Tonight' stand-up comedy show, one RT promotional piece, and two 'Watching the Hawks' promotional pieces.
"It's a great honor for 'The Big Picture' team to win these awards. Both shows that won were hour long conversations on two very important issues facing our country: climate change and wealth inequality," RT America anchor Thom Hartmann said. "More in-depth discussion needs to be had on these issues from the corporate-run mainstream media."
RT America reporters went to the front lines of the Ferguson protests, bringing global audiences a unique, firsthand picture of what happened after the grand jury decision, focusing on both sides of the heated confrontations between the protesters and the police. Our efforts did not go unnoticed.
READ MORE: RT America bags 2 prizes at New York Festivals International TV & Film Awards
"RT America News: Ferguson Erupts into Chaos After Grand Jury Decision" was honored with a 2016 People's Telly Silver Award, the highest prize in its category, in which the public has the power to rate videos and select the winners.
Your votes also secured us another People's Telly Award for "Redacted Tonight Live." The one-time stand up and improve event for the political comedy show took place in New York City, and featured the comedic talents of Lee Camp and other members of the 'Redacted Tonight' team.
RT America's third People Telly Silver Award in this year's contest was given to "Watching the Hawks: Graveside Promo."
Our promo "What Makes RT Viewers Unique?" was also up for a People's Telly Award and received the bronze prize.
"The fact that we received 10 awards this year indicates that the US audiences are demanding a real alternative in news. RT America brings to the table the highest level of production, all the while giving the voice to those who are forgotten by the mainstream media – and we are honored that our colleagues in the TV industry acknowledge that," said Margarita Simonyan, RT's editor in chief.
Founded in 1979, for nearly 40 years The Telly Awards has been the premier award, marking outstanding films, videos and commercials, both on-air and online productions.
READ MORE:RT social media wins 'People's Voice' at Webbys – the 'Oscars of the web'
Winners represent the best work of the most respected television stations, production companies, cable operators, advertising agencies, and corporate video departments in the world.
"The Telly Awards has a mission to honor the very best in film and video," said Linda Day, Executive Director of the Telly Awards. "RT America's accomplishments illustrate their creativity, skill, and dedication to their craft and serves as a testament to great film and video production."