'Everybody Sucks 2016': Joke campaign sign garners national attention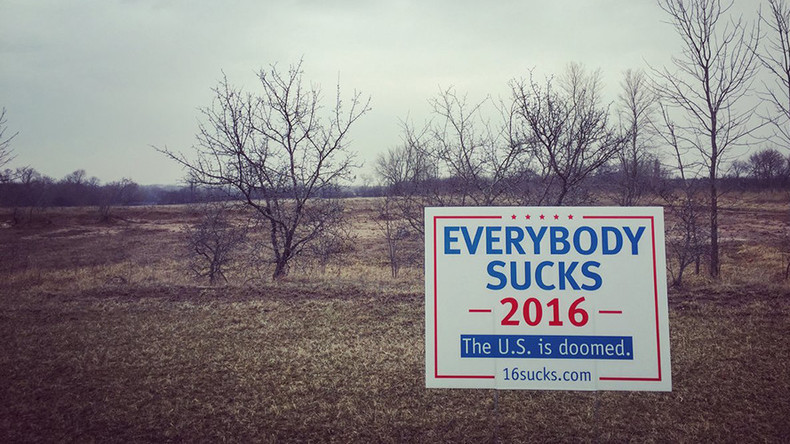 A Kansas City, Missouri couple may have tapped into America's latent resentment regarding this election season, receiving national attention for a joke campaign sign which they put in their front yard reading: "Everybody Sucks 2016. The US is doomed."
Debbie Butler told KSHB-TV last week that she and her husband, an Army veteran who fought in both Afghanistan and Iraq, first bought the sign as joke.
"It's just fun," Butler told the network. "We just thought it was funny when we saw it, so we bought it and put it in the front yard."
Although buying it may have just been a flight of fancy, it has since attracted attention from Kansas City residents, and images of it have gone viral on a national level.

"It gets a lot of car honks," Butler explained to KHSB. "It gets people stopping and saying, 'We love your sign.' People slow down and take pictures of our sign."
The sign lists the website 16sucks.com on the bottom, where similar signs along with t-shirts and bumper stickers can be bought. The website's motto is "Political Swag for the Unpolitical."
Whoever ordered the "everybody sucks 2016" bumper sticker for me that got delivered today -- thanks!

— Steve Deace (@SteveDeaceShow) May 9, 2016
A yard sign I passed yesterday read "EVERYBODY SUCKS - 2016. WE'RE DOOMED!" That kinda captures the mood of a lot of voters. #Trump2016

— CDM (@RWSurferGirl1) April 22, 2016
On the website's 'about' section, the owner explains his frustration with politics and the 2016 presidential race that motivated him to start his business.

"Nothing is more infuriating than idiots who walk their dogs on the wrong side of the road except, maybe, having our social media bombed by political bullsh** we don't care about," 16sucks.com's unidentified owner wrote. "Most of our lives don't revolve around politics otherwise we'd end up as sh**ty, loathsome politicians. Despite our greatest efforts the media is still saturated with unavoidable garbage, which is where we come in."
"Step up and voice your opinion as unpolitical as you are cause, damn it, we are too and there are plenty more people just like you," the page continues.