Hundreds of protesters striking at SF City Hall over police killings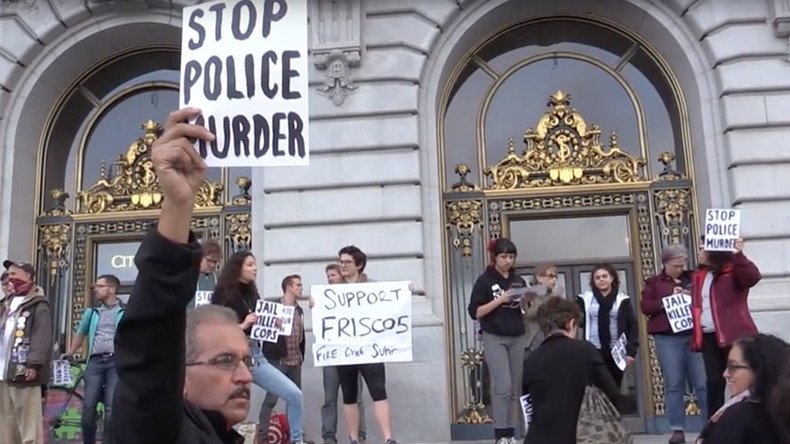 Hundreds of people are protesting at San Francisco City Hall on Monday, expressing support for five people who conducted a hunger strike lasting more than two weeks, and pushing for an end to police brutality and the removal of the city's police chief.
Demonstrators in San Francisco are calling for the ouster of Police Chief Greg Suhr, with an all-day strike intended to push their agenda. The beleaguered city police department has been racked with controversy over the fatal shootings of people of color, as well as racist and homophobic text messages sent by some officers.
Beginning at 8 a.m., demonstrators started marching on City Hall, chanting slogans such as "No justice, no peace," and "Fire Chief Suhr." At one point, they also chanted, "How do you spell murder? S-F-P-D."
Monday's strike comes a few days after 33 protesters were arrested during a Friday night demonstration at City Hall, where dozens of demonstrators came out in support of five hunger strikers known as the "Frisco Five." In an attempt to force Mayor Ed Lee to fire Suhr, the individuals subsisted on chicken broth, coconut water and juice for 17 days before being admitted into a hospital for deteriorating health.
On Saturday, the Frisco Five – whose names are Sellassie Blackwell, Edwin Lindo, Ike Pinkston, Maria Gutierrez and Ilyich Sato – ended their hunger strike. The group said their supporters urged them to eat "so they can return to the front lines and help shape this movement and the pursuit of justice for the black and brown citizens of San Francisco."
"Because of the Mayor's unwillingness to fire corrupt Police Chief Suhr, the Frisco Five have been forced to prolong their hunger strike and have now all been hospitalized," the five said in a statement, according to SFist.com. "It is time for all of us to action with honor, courage, and sacrifice for those who no longer have a voice."
The five then asked people to join them on Monday for a general strike at City Hall. The requested that participants leave work and school to join, and also to boycott corporate restaurants and stores.
"We want everyone to not spend any money in the city of San Francisco tomorrow," said Yayne Abeda, the spokesperson for the five, to Mission Local. "Since the mayor only seems to care about money, we are going to hit the city in its pocket book."
So far, almost 900 people have said they will join the strike, according to the event's Facebook page. In preparation for the demonstration, police were seen installing barricades Sunday evening.
The Frisco Five hunger strike began on April 21 in the wake of the death of homeless man Luis Gongora, who was fatally shot by police earlier that month. Officers said the man had charged at them with a knife before they shot him, but some eyewitnesses disputed that claim to the SF Chronicle.
The December death of 26-year-old black man Mario Woods has also been a catalyst for the protests. Police said Woods was a suspect in connection to a stabbing incident and that he refused orders to drop a knife before they opened fire on him. Woods was shot 21 times, according to an autopsy report, leading many to argue they used excessive and unnecessary force.
Although there have been multiple protests at City Hall during the Frisco Five hunger strike, Mayor Lee has said Suhr will not be fired. The police department has also said Suhr does not intend to resign.
You can share this story on social media: