SF cops tackle police brutality protesters as 'Frisco Five' continue hunger strike (VIDEOS)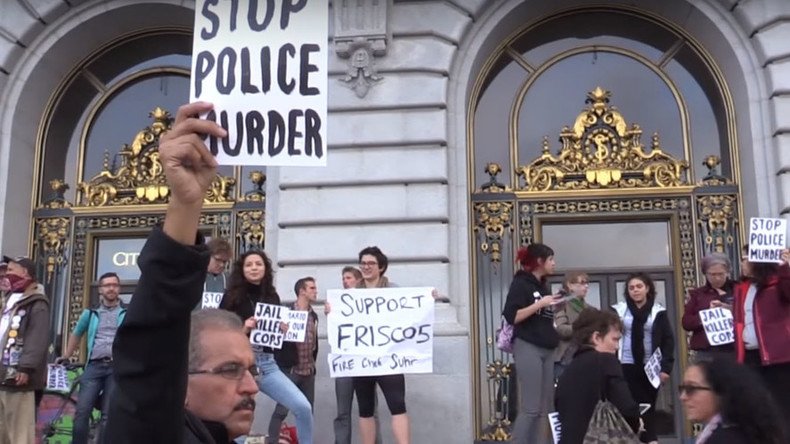 Over a dozen protesters demanding the resignation of San Francisco Police Chief Gregory Suhr over cop shootings have reportedly been arrested in angry exchanges at City Hall.
A show of solidarity with hunger strikers dubbed the "Frisco Five," who are calling for Suhr to quit, turned ugly on Friday as protesters clashed with riot police.
The peaceful Hunger for Justice demonstration at City Hall became heated when police tried to form a barrier in front of gathering crowds and attempted to forcibly remove protesters from the building.
It is unclear how many were formally arrested by officers. Hunger for Justice suggests 15 people were detained, while Mission Local reports 18 arrests, and ABC7 cites officials saying 25 people were arrested. San Francisco police have not released a statement on the issue.
Scores of people descended on the office of San Francisco Mayor Ed Lee to support "Frisco Five" hunger protesters Sellassie Blackwell, Edwin Lindo, Ike Pinkston, Maria Gutierrez and Ilyich Sato, ABC7 reports.
The group had been staging a hunger strike outside Mission Police Station up until recently over fatal shootings by police, reported the San Francisco Chronicle.
Footage from inside San Francisco City Hall shows officers telling protesters to "back-up," before cops carrying riot batons begin pushing people from a marble staircase.
The Frisco Five have been on a hunger strike since April 21 to protest the number of San Francisco police shootings, the latest of which involved a homeless man identified locally as Luis Gongora.
Gongora was shot by two police officers who fired bean bags rounds and seven bullets on April 7.
The San Francisco Chronicle reports receiving eyewitness statements contradicting the officers' claims that the 45-year-old man had come at them with a knife.
CCTV video of the shooting shows three squad cars pulling up to the scene in the moments leading up to the off-camera shooting.
At least one of the officers shouts, "Get on the ground… put that down" before gunshots are heard.
The use of deadly force by San Francisco police has made the headlines in recent months, most noticeably in the case of Mario Woods, who was shot at least 20 times by a group of officers in December of 2015.
Woods was identified as a stabbing suspect and was reportedly seen carrying a knife prior to his killing.
Officers said they opened fire because Woods was a threat, although video of his death shows him struggling to walk as officers surround him. His killing was declared lawful by authorities earlier this year.
READ MORE: San Francisco police subject of Justice Dept. review after controversial shooting

On Friday, the Frisco Five were transferred to University of California San Francisco Medical Center due to their deteriorating condition, a post on Hunger for Justice's official Facebook page reported.
"At this time we are not able to release any additional information due to privacy concerns. The strike is still on," the statement added.
San Francisco's mayor made contact with the strikers for the first time on Thursday, almost two weeks after their decision to refuse food.
According to a Facebook statement from protester Edwin Lindo, the mayor "made [it] clear that he stands with Suhr and will not fire him".
"He didn't even ask about our health. This man will really leave us in these streets to die. Sad," Lindo continued. "We will make sure the world puts its weight of justice on Ed Lee and San Francisco. We will win."
Despite mounting pressure on their chief to resign, the San Francisco Police Department says that will not happen. A spokesperson told ABC News last month that Suhr has "no intentions of stepping down".
You can share this story on social media: