Blind faith: Florida woman regains eyesight after 21 years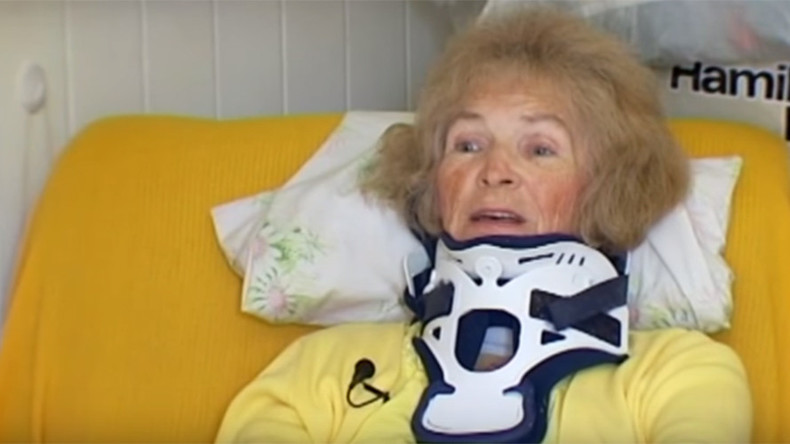 Medical mysteries are rarely pleasant, but Mary Ann Franco's is nothing short of a miracle. The Florida woman lost her vision over two decades ago after a car accident, but a recent neck operation returned her eyesight with a bonus upgrade.
In 1995, Mary Ann Franco was in a car accident that caused multiple injuries, including one to her spine. In the days that followed, she began to have problems with her vision.
"It went blackish gray," she told WPBF. "And I couldn't see anything."
She then spent the next two decades learning how to live without the use of her eyes – that is until recently when Franco fell in her Okeechobee home and needed to have an operation performed on her spine.
Neck injuries are not often part of a success story, but when she woke up in the hospital recovery room, she tried to get a nurse's attention.
"I said, 'Lady, you with all that purple on, you give me something for pain,'" Franco told WPBF. "And my niece says, 'What did you say, Mary?'"
That statement was especially surprising given that prior to her 1995 accident, Franco was colorblind. The operation seems to have restored not only her vision, but her ability to see color as well. How it happened is still a mystery.
Her doctor, John Afshar called the recovery of her eyesight "a miracle," telling WPBF, "I've never seen it, never heard of it."
While the doctor isn't sure exactly what happened, his current theory is that the 1995 accident created a kink that restricted blood flow from an artery in her spine. As a result, the part of her brain that controls vision wasn't receiving enough blood to function properly. Her recent neck surgery may have unkinked the artery, "And when we gave that extra amount of blood flow by unkinking the vessel, it could have re-established the blood flow," Dr. Afshar said, adding, "But this is all theoretical."
Franco is not on board with his theory, however, because to her it is a gift from God.
"I believe he just went ahead and give it to me, he give me back my sight," She told WPBF. "I really believe this with all my heart."
Now that the woman has her vision back, she is excited to see her friends, family, and pets. Her chores have become easier and she gets to appreciate the South Florida sunshine.
"The sun is coming through the trees," she said to WPBF. "Oh God, it's so wonderful to see."