Unconventional no more: Two-thirds of natural gas comes from fracking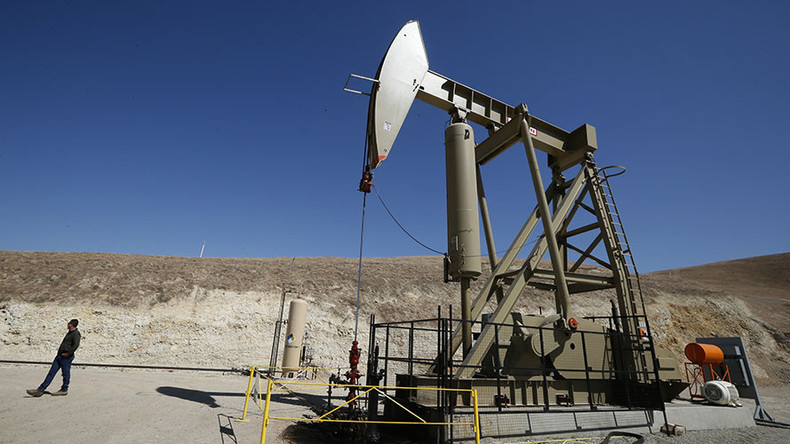 In just 15 years, gas produced from hydraulic fracturing, or fracking, has grown from 7 percent to 67 percent of US output, becoming the dominant technique. The controversial method extracts oil and natural gas from shale formations deep underground.
"[O]ver the past 10 years [fracking] has become the technique by which most natural gas is produced in the United States," wrote the US Energy Information Administration in its paper Today in Energy on Thursday.
"Based on the most recent data from states, EIA estimates that natural gas production from hydraulic fracturing wells now makes up about two-thirds of the total US marketed gas production."
EIA said the share of natural gas production is even greater than that of crude oil produced using the same methods, which accounts for about half of current oil production in the US.
In 2000, approximately 26,000 fracking wells produced 3.6 billion cubic feet of marketed gas per day in the US, making up less than 7 percent of the national total. Fifteen years later, the number of fracking wells had grown to an estimated 300,000, and production to more than 53 billion cubic feet per day, representing 67 percent of the US' total natural gas output.
Natural gas is predominantly fracked from shale and other tight rocks in the Marcellus and Utica formations of the Appalachian Basin, the Bakken formation in Montana and North Dakota, the Eagle Ford formation in Texas, and the stacked Permian Basin formations in Texas and New Mexico.
The hydraulic fracturing technique involves pumping water, sand, and chemicals into a well under high pressure to break apart rock and release fuel. The practice is controversial, however.
Proponents laud the economic benefits of accessing local natural gas, while opponents argue that the potential environmental side effects present too great of a risk. The possible consequences of fracking include earthquakes, ground and water contamination, air and noise pollution, and potential hazards to public health.
Fracking practices have been linked to earthquakes across Arkansas, Colorado, Kansas, New Mexico, Ohio, Oklahoma, and Texas.
In March, a federal Pennsylvania jury ordered Cabot Oil & Gas to pay more than $4.24 million in damages to two families in Dimock, who claimed the company's fracking operations contaminated their groundwater with methane.
State regulators blamed faulty gas wells drilled by the company for leaking combustible methane into Dimock's groundwater. The company argued that the methane release was occurring naturally. More than 40 families have sued Cabot since it began fracking to extract natural gas from underground shale formations near Dimock in 2008. The other families settled with the company in 2012. The plight of families in Dimock was featured in Gasland, an Emmy-winning 2010 documentary by Josh Fox.
The technique is also controversial because it is conducted under outdated federal regulations on the transport, storage, and disposal of hydraulic fracking waste, which are inadequate to prevent earthquakes, and air and water pollution.
A coalition of environmental groups sued the Environmental Protection Agency on Wednesday over regulations that have not changed in three decades.
"Waste from the oil and gas industry is very often toxic and should be treated that way," said Amy Mall from the Natural Resources Defense Council. "[The] EPA must step in and protect our communities and drinking water from the carcinogens, radioactive material, and other dangerous substances that go hand-in-hand with oil and gas waste."
The groups also want the EPA to adopt stronger guidelines for building and maintaining the ponds and landfills used to store fracking waste and have asked the court to set strict deadlines for the agency to adopt the new rules.
You can share this story on social media: