'A description of hell': OxyContin makers downplayed addiction, hyped effectiveness – report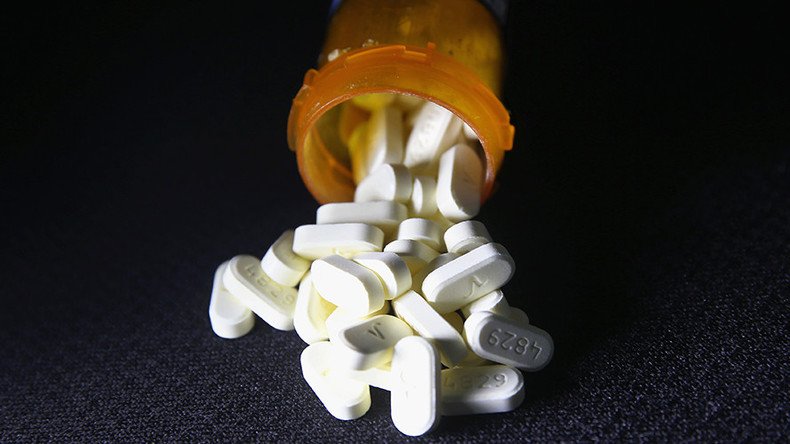 OxyContin became the best-selling US pain-killer based on its maker's claim that its effect lasts for 12 hours. An investigation has now cast doubts on those claims, however, while warning of the dangers of one of the most abused drugs in US history.
An extended-effect version of the generic painkiller oxycodone, OxyContin made its debut in 1996 and peaked in popularity in 2010. Doctors across the US wrote 5.4 million prescriptions for the medication in 2014, and the total profits from the drug have been estimated at $31 billion. Yet the key to the drug's market dominance and high price point hinged on the claim that it controlled pain for a full 12 hours, which was problematic from the very beginning, according to an extensive investigative report published on Thursday by the Los Angeles Times.
Purdue Pharma, the Connecticut-based makers of OxyContin, answered the paper's questions with a one-page statement which pointed out that the US Food and Drug Administration (FDA) had approved Oxy as a 12-hour drug.
"Scientific evidence amassed over more than 20 years, including more than a dozen controlled clinical studies, supports FDA's approval of 12-hour dosing for OxyContin," Purdue's chief medical officer, Dr. Gail Cawkwell, told the Times.
Documents obtained by the paper, however, indicate that the company was aware that the drug wore off long before the advertised period ended, but insisted on a 12-hour dosage to maintain profitability. The paper has reviewed thousands of pages of confidential documents obtained from court cases and government investigations, including many records that had been sealed by the courts. Spanning almost three decades from the mid-1980s to 2011, the documents include emails, memos, meeting minutes, sales reports, and sworn testimonies from Purdue employees.
The Sackler family, which owns Purdue Pharma, was already wealthy. The success of OxyContin boosted their net worth to $14 billion – ahead of such American dynasties as the Rockefellers and the Mellons, Forbes magazine noted in 2015.
OxyContin was envisioned as a replacement for Purdue's signature product, the extended-duration morphine pain reliever MS Contin, which was reaching the end of its patent protection. The proprietary technique for extending the drug's release was then applied to an old, cheap drug called oxycodone and used in short-term pain relievers such as Percocet.
In 1989, Purdue tested the new drug on women recovering from abdominal and genital surgery in Puerto Rico. The study found that OxyContin was safe, relieved pain, and lasted longer than short-acting painkillers – but not quite up to 12 hours, as Purdue continued to advertise.
"In study after study, many patients given OxyContin every 12 hours would ask for more medication before their next scheduled dose."

— Jennifer Vinopal (@jvinopal) May 6, 2016
"Even before OxyContin went on the market, clinical trials showed many patients weren't getting 12 hours of relief. Since the drug's debut in 1996, the company has been confronted with additional evidence, including complaints from doctors, reports from its own sales reps, and independent research," the Times noted.
As OxyContin is a chemical cousin of heroin, when it ran out, some patients would experience "excruciating symptoms of withdrawal, including an intense craving for the drug," the paper added.
Elizabeth Kipp was 42 when she was first prescribed OxyContin in 1996. The stay-at-home mom from Kansas had suffered from back pain since she was thrown off a horse at the age of 14. She was told to take the drug every 12 hours. Relief would last for 3 to 4 hours, and then the pain would return. Her doctor kept increasing the dosage of the medication, but not the frequency. It did not help.
"You want a description of hell," Kipp told the LA Times. "I can give it to you."
Documents show that Purdue representatives and sales managers strongly objected to physicians prescribing Oxy with greater frequency, urging them to increase the dosage instead. A November 1996 letter from a regional manager in Atlanta urged a district sales manager to train representatives to convince physicians that "there is no need to do this, and that 100% of the patients in the studies had pain relief on a q12h dosing regimen."
By 2000, Purdue had analyzed data revealing that almost 28 percent of OxyContin prescriptions instructed patients to take it every eight hours or even more frequently. "These numbers are very scary," managers warned sales representatives during one workshop.
One manager sent out a note stating that the practice of 8-hour dosing "needs to be nipped in the bud. NOW!!"
Dr. David Egilman, a Brown University professor of family medicine who served as an expert for the plaintiffs in many lawsuits against Purdue, called the 12-hour schedule an "addiction producing machine."
OxyContin is widely blamed for setting off an opioid abuse epidemic that has claimed over 199,000 lives in the US since 1999. In 2007, the company and three top executives pleaded guilty to fraud for downplaying the drug's risks of addiction, and were ordered to pay $635 million in fines.
If people took Oxy more often than their doctors instructed, "I don't see where that's my problem," Purdue senior medical director, Dr. J. David Haddox, told a reporter in 2001.
It was a problem for Burgess MacNamara, who was a 27-year-old gym teacher in Orlando, Florida when he began taking OxyContin following knee surgery.
"The first six hours, it is awesome," he told the LA Times. Then the effect would begin to wear off and he would become obsessed with his next dose. "That's all you think about. Your whole day revolves around that."
MacNamara eventually turned to heroin, lost his teaching career, and spent 19 months behind bars on drug charges. "Death was looking real good to me," he said.
If you haven't read the LA Times piece on OxyContin, take the time to do so. It's chilling.

— Jaclyn Renee (@dubnoxious) May 6, 2016
The FDA approved Purdue's application for OxyContin in 1995. Dr. Curtis Wright, who led the agency's review of the drug, declined to comment for the LA Times article. He left the FDA shortly after OxyContin's approval and, within two years, was working for Purdue in new product development, the Times reported, citing his sworn testimony from a 2006 lawsuit. FDA officials declined the paper's requests for an interview.
You can share this story on social media: