Gun advocate mom gets no jail time after getting shot by 4yo son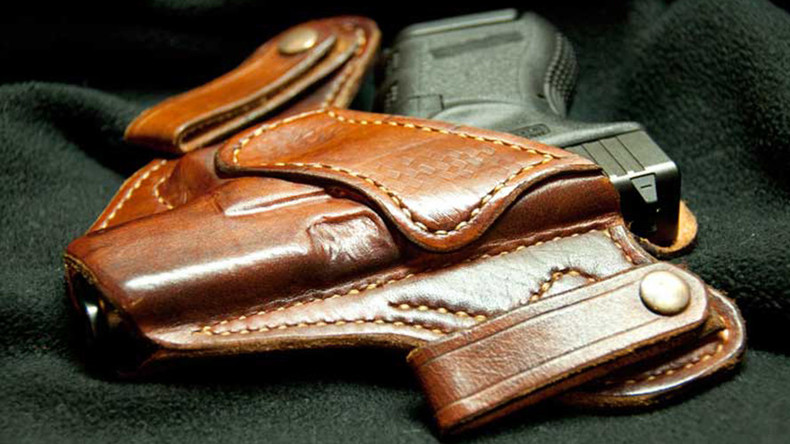 Jamie Gilt will give 10 gun safety speeches to avoid jail time as part of an arrangement with a Florida state attorney. The gun activist mother was accidentally shot by her 4-year-old son, who found her .45 caliber handgun during a long car ride.
Nearly two months after the accidental shooting, Gilt, 31, has been charged with the second-degree misdemeanor of unsafe storage of a firearm. Technically, the charge carries a six-month prison sentence, but Gilt is likely to see it dropped under a special deal with 7th Circuit State Attorney R.J. Larizza.
While driving some 70 miles from her Jacksonville home to Putnam County on March 8, Gilt was about to make a U-turn when "she felt something strike her in the back, then noticed the windshield of her truck was broken," Captain Gator DeLoach of the Putnam County Sheriff's Office said during a March 22 press conference.
"Seconds later, Jamie began to bleed from her chest," DeLoach said.
Gilt, who used to run a Facebook page called "Jamie Gilt for Gun Sense," had not secured the firearm, leaving it underneath the driver's seat instead. She kept it there because she would have been leaving the car with it frequently during the long drive, Gilt told investigators. The handgun slipped toward the back seat, where her 4-year-old son was able to reach down after unbuckling his seatbelt.
As part of her deferred prosecution deal, Gilt will have to pass a gun safety course within the next 90 days, add a mounted gun holster in her truck, show police her safe firearms storage in her home and go on a speaking tour, giving 10 speeches on her experience and the lessons of securing guns.
Gilt's actions on March 8 are also currently being investigated by the Florida Department of Children and Families, and her son is staying with relatives in the meantime.
"Even my 4 year old gets jacked up to target shoot with the .22," Gilt had posted on her Facebook page the day before the accident. Another post in February shared an image with the words, "My right to protect my child with my gun trumps your fear of my gun."
This is not Gilt's first time avoiding a criminal record. On April 4, 2013, she was held by Dillard's department store security guards for grand theft, hiding children's clothes valued at $455 inside her purse, which was concealed in a stroller. Court records show the charges were dropped after completion of an intervention program, according to WJXT.