Glyphosate and Atrazine: EPA posts, then retracts, reports on top herbicide chemicals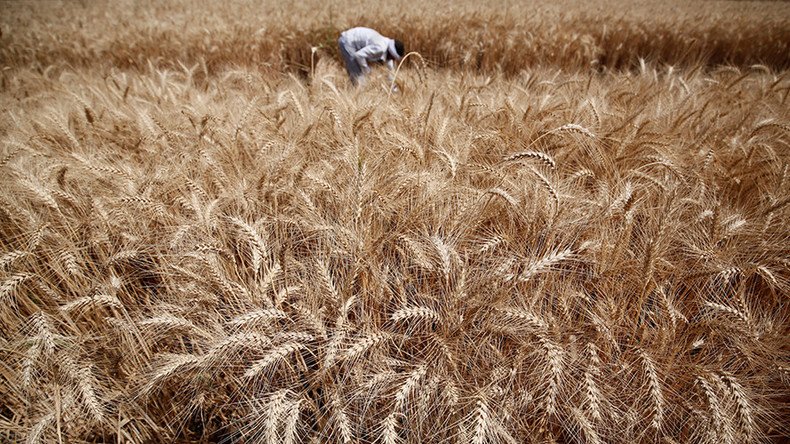 The EPA recently posted online reports on two disputed herbicide chemicals, only to pull them offline shortly afterwards. The reports said glyphosate was not a human carcinogen and atrazine caused reproductive harm to mammals.
On April 29, the EPA's cancer assessment review committee (CARC) posted an 86-page report on the agency's regulations.gov website that stated glyphosate, the main ingredient in Monsanto's Roundup weed killer that was deemed a "probable" human carcinogen by the World Health Organization last year, "was not likely to be carcinogenic to humans," Reuters reported.
On May 2, the EPA pulled the report offline, saying the action was taken "because our assessment is not final," and that the "preliminary" documents were "inadvertently" published.
"EPA has not completed our cancer review," the EPA told Reuters. "We will look at the work of other governments as well as work by (the U.S. Department of Health and Human Services') Agricultural Health Study as we move to make a decision on glyphosate."
However, the cover page of the documents was titled "final Cancer Assessment Document," Reuters reported, and the word "FINAL" was printed on each page of the report, dated October 1, 2015. The EPA said the assessment — part of the first comprehensive safety review of the chemical since 1993, which will determine glyphosate use in the US over the next 15 years — will be complete by the end of 2016.
Critics of glyphosate ridiculed the EPA for its short-lived assessment, while the chemical's supporters, including agribusiness giant Monsanto, hailed the report for endorsing glyphosate's safety. Monsanto even posted a copy of it on its website.
"Pulling the report indicates lack of confidence in the outcome," tweeted Nathan Donley, a scientist for the Center for Biological Diversity. "Can't blame them, the analysis is terrible."
The glyphosate documents indicated that the EPA was "relying heavily on unpublished, industry funded studies" in its assessment that glyphosate is not a human carcinogen, the Center for Biological Diversity said. In contrast, the World Health Organization's view that glyphosate is a "likely" human carcinogen included studies that were publicly available and that took into account consumer products.
"All they're doing is reviewing studies that are funded by the industry," Jennifer Sass, a senior scientist at Natural Resources Defense Council, told Reuters.
In 1974, Monsanto began selling the chemical in Roundup, which has become a top bioicide for farming, especially involving genetically-engineered crops, and home and garden uses.
"No pesticide regulator in the world considers glyphosate to be a carcinogen, and this conclusion by the U.S. EPA once again reinforces this important fact," said Hugh Grant, Monsanto's CEO.
The use of glyphosate in herbicides has increased by more than 250 times in the United States over the last 40 years, according to the New England Journal of Medicine. Long-term exposure to glyphosate has been linked to kidney and liver damage, as well as cellular and genetic diseases. Monsanto and defenders of glyphosate use called the World Health Organization's carcinogen classification too "dramatic" and have pointed to assurances that the chemical is safe.
Petition seeking ban on glyphosate to be delivered to @EPA today, coalition of environmental, consumer groups say #food#pesticides

— carey gillam (@careygillam) May 4, 2016
In April, the European Parliament approved the seven-year reauthorization of glyphosate, though it recommended the chemical should be used only by professionals and not in public places.
Atrazine
Around the same time it pulled the glyphosate assessment off its website, the EPA similarly published and retracted a less-flattering report on the herbicide atrazine, which was banned in Europe in 2004. Atrazine is legal in the US, where it is second only to glyphosate among most-used agricultural herbicides.
Atrazine is manufactured by agrochemical corporation Syngenta. At least 60 million pounds of the chemical is used in the US each year, mainly on corn fields, according to the Natural Resources Defense Council. US agencies and other researchers have found high levels of atrazine in groundwater and drinking water near agricultural and rural areas. Atrazine is known to be an endocrine disruptor and has been linked to hormonal defects and some types of cancer in humans.
On April 29, an EPA assessment on atrazine was posted on the agency's website but subsequently taken down. The documents are available here. The assessment said atrazine was found to cause reproductive harm to birds and mammals, exceeding by 200 times the EPA's "levels of concern." Amphibians were found to be especially at-risk from atrazine exposure, echoing research by scientists at the University of California, Berkeley, who found that about three-quarters of male frogs are castrated by the chemical.
"When the amount of atrazine allowed in our drinking water is high enough to turn a male tadpole into a female frog, then our regulatory system has failed us," said Donley, the Center for Biological Diversity scientist. "We've reached a point with atrazine where more scientific analysis is just unnecessary — atrazine needs to be banned now."
Like glyphosate, atrazine is undergoing a 15-year safety review by the EPA. The previous of such assessments on atrazine occurred in 2003.
Syngenta, atrazine's maker, touts the chemical's safety on its website, claiming it is not "physically possible to dissolve enough atrazine in water to have any impact on hormones or human health."
"No one has, ever will, or ever could be exposed to enough atrazine in the natural environment to affect their reproductive health," the chemical giant says.
You can share this story on social media: