GM and Lyft plan to have self-driving taxis on the road in a year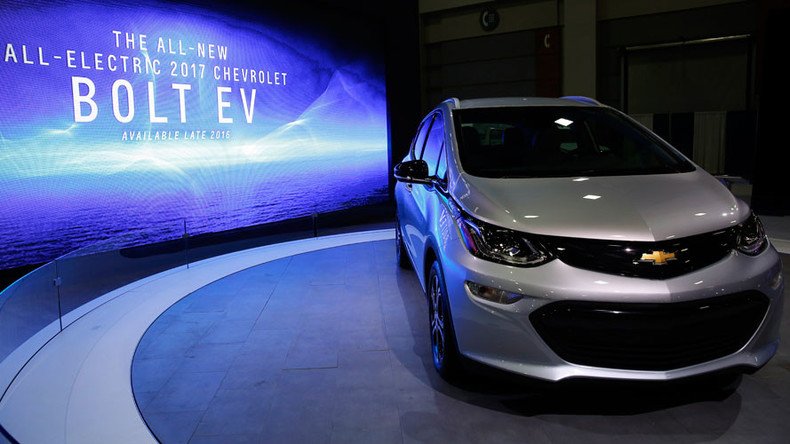 Automaker GM and ride-sharing company Lyft are working together to establish a fleet of self-driving taxis, and they're planning to have the vehicles on the road within a year's time.
The two companies have not decided which city will be home to the first batch of autonomous taxis, but their plan is to slowly introduce the technology with the aim of eventually eliminating the human driver from the cab altogether, the Wall Street Journal reported.
One vehicle that has been tagged as a main component of the fleet is GM's Chevrolet Bolt EV, an upcoming electric car that is expected to be capable of driving some 200 miles (320km) on a single charge. The cars will reportedly be equipped with self-driving technology from Cruise Automation, which GM announced it will purchase in March for about $1 billion.
The Detroit Free Press reported that the decision on which car will be used during the tests hasn't been finalized, but noted that GM called the Bolt "the ideal platform for ride-sharing solutions." The car has extra room in the front and back of the vehicle because its battery is located below the cabin floor, giving drivers and riders a more comfortable space to sit in during a commute.
At first, the self-driving taxis will feature drivers capable of taking over a vehicle if necessary – part of an effort to ease the minds of riders as well as government regulators. Lyft will allow people who hail a cab to opt out of the self-driving test, via its mobile app, if they don't want to participate.
"At first we're talking about a very small number of vehicles," said Lyft Product Director Taggart Matthiesen to the Free Press. "You'd start with a handful and slowly increase the supply as you gain confidence. Safety is paramount."
One thing Lyft and GM are trying to avoid with the slow roll-out is various states each establishing their own regulations for autonomous vehicles. Lyft itself is part of a new lobbying coalition composed of giants such as Ford, Google, and Uber – notably, GM is absent from the organization – that will advocate for self-driving tech at the federal level. The group wants to see national standards in order to avoid a patchwork of regulations.
Ultimately, the goal for Lyft and GM is to get customers acclimated to self-driving vehicles and remove drivers entirely. Lyft is currently working on a smartphone app that would allow people to choose whether to be picked up by an autonomous car, and it plans to offer a variety of options in order to make people more comfortable with the idea of riding without a driver, according to WSJ. One option would be giving them access to a GM OnStar assistant if they have questions or if another issue were to pop up.
Another option would be to give the car orders, such as telling it when it can begin driving or when it can leave.
The move comes about five months after GM announced it was investing $500 million in Lyft in an effort to create an "on-demand network of autonomous vehicles" and also become the primary vehicle provider for the ride-sharing service. The company itself did not confirm plans to start publicly testing self-driving taxis within a year, but it did say it "continues to make progress on our previously announced plans related to an integrated on-demand autonomous network with Lyft."
Self-driving technology has been hailed as a potential lifesaver, with an April report from Reuters stating that experts believe it can prevent most of the 33,000 car accident deaths that occur annually. With fewer drivers, though, thousands of people could find themselves unemployed, and the potential for lower vehicle sales also means many factory workers would lose their jobs.
You can share this story on social media: