Trump sets off Cinco de Mayo controversy with 'taco bowl' tweet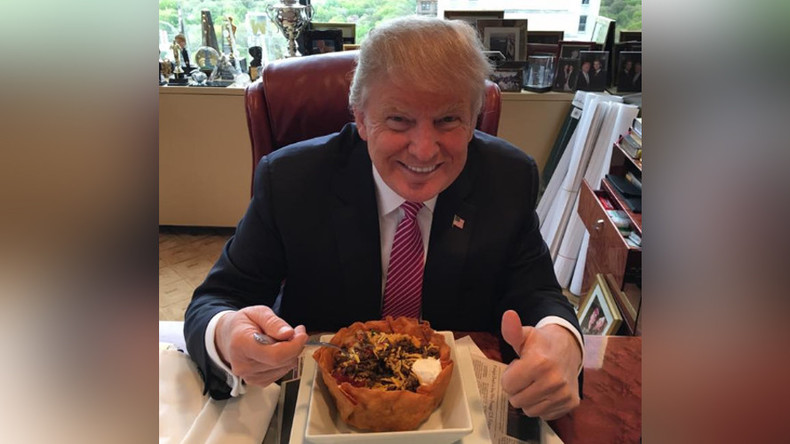 Republican presidential candidate Donald Trump's tweet about a taco bowl on Cinco de Mayo went viral, with critics accusing him of "Hispandering" and hypocrisy, given his earlier comments on immigrants from Mexico.
It all started with a tweet on Thursday afternoon, with the billionaire wishing everyone a happy Cinco de Mayo, praising a Mexican-themed dish from a restaurant in New York's Trump Tower, and adding, "I love Hispanics."
In less than half an hour, #TacoBowlGate went viral.
BuzzFeed reporter Andrew Kaczynski fed the flames, calling the restaurant mentioned in Trump's tweet and confirming the item was not on their menu.
Half an hour later, he – sort of – apologized: the taco bowls were indeed on offer, but at Trump Café, not at Trump Grill.
BuzzFeed was not the only one obsessing about Trump's tweet. One journalist figured out that a placemat in the photo showed a picture of Trump's ex-wife.
Another counted the Trump bobble-heads on the shelf behind the billionaire businessman.
It wasn't long before Trump was being blasted for "Hispandering" – pandering to Hispanic voters – especially in light of his determination to build a wall along the Mexican border and disparaging remarks about Mexican immigrants.
Democratic presidential candidate Hillary Clinton also joined the outcry.
However, some pointed out that Trump was not the only politician caught Hispandering.
Another Twitter user combined the outrage with another trend popular on Thursday.
Cinco de Mayo – the Fifth of May – is the date on which the Mexican army defeated the French invaders in the 1862 Battle of Puebla.
Contrary to popular belief, it is not celebrated widely in Mexico; it became popular in the US among the people of Mexican heritage in the latter half of the 20th century.
You can share this story on social media: