Addicts turn to abusing potentially deadly anti-diarrhea drug
An increasing number of people are coping with their opioid withdrawal by using large doses of Imodium, an over-the-counter anti-diarrhea medicine, to get high. This can have fatal consequences, according to a new study.
Loperamide, known to public as Immodium, is an opioid drug, meaning that it's part of the same family of substances as prescription painkillers and heroin. In normal doses, it won't have any psychoactive effects. However, thanks to the drug being accessible and low-cost, those seeking to get high or to manage their withdrawal symptoms can easily get effects similar to painkillers by taking dangerously high doses.
Read more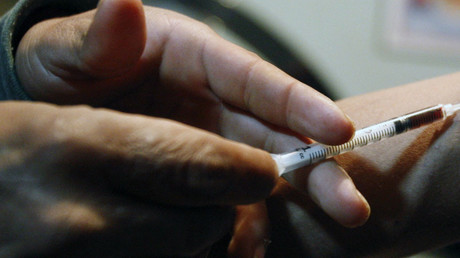 A study on loperamide abuse was published in the journal The Annals of Emergency Medicine on Tuesday.
"People looking for either self-treatment of withdrawal symptoms [for opioid addiction] or euphoria are overdosing on loperamide with sometimes deadly consequences," William Eggleston, a clinical toxicologist at the Upstate New York Poison Center in Syracuse and the study's co-author, said in a statement. "This is another reminder that all drugs, including those sold without a prescription, can be dangerous when not used as directed."
"It's low cost, there is easy access and it's ripe for abuse," Eggelston added.
The report points to two separate cases where men, a 24-year-old and a 39-year-old, took very large doses of the drug to try and stave off the pains of opioid withdrawal. Both men overdosed and received emergency medical services at their homes, but died before reaching the hospital. Unfortunately, these were not isolated incidents.
The Upstate New York Poison Center had a sevenfold increase in calls related to loperamide abuse between 2011 and 2015, while national data showed a 71 percent increase in calls related to the drug between 2011 and 2014.
Similarly, from 2010 to 2011 there was a tenfold increase in internet forum posts about abusing the drug, according to a 2013 study. Almost 70 percent of posts in the study discussed using loperamide as a remedy to self-treat opioid withdrawal symptoms, and about 25 percent of the posts discussed using the drug to produce euphoric effects. Most posts reported taking large doses of 70 mg per day, though some went took doses as large as 200 mg daily, much higher than the indicated dose of 16 mg per day.
"Our nation's growing population of opioid-addicted patients is seeking alternative drug sources, with prescription opioid medication abuse being limited by new legislation and regulations," Eggleston said.