Zany suit riot: Chicago Cubs celebrate their dominant season in style (PHOTOS)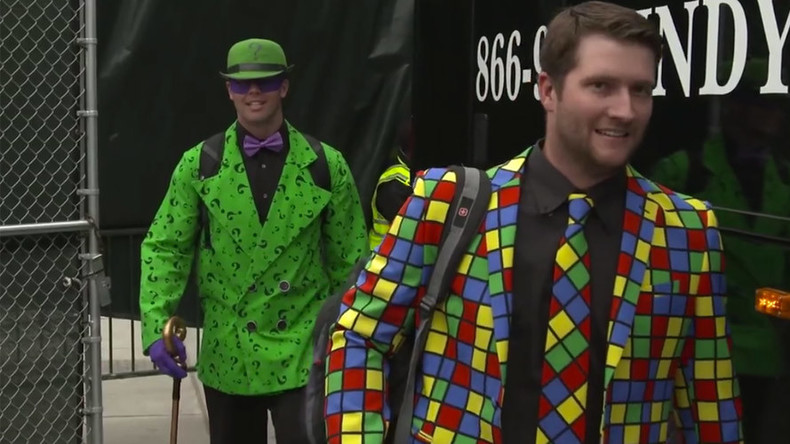 The last time the northsiders won the coveted World Series, Teddy Roosevelt was president and Russia was still run by the Romanovs. They haven't even been to the grand dance since 1945.
Cubs manager Joe Maddon, who instantly made the team a contender when he joined them last season, is known for his "theme trips" and this year is no different.
Ahead of the team's three-game series against division rivals the Pittsburgh Pirates, Maddon called for "a minimalist zany suit trip" and the choices have been exceptional.
From stars and stripes to cherries and blood stains, it was a light-hearted way to take the pressure off what's thought to be the most anticipated championship in all of the sports.
"It's not your typical Hugo Boss thing, not Italian cut by any means," Maddon said this weekend.
The Cubs don't do things by halves either as anyone caught in breach of the rules will be fined.
"If you're seen at any time without part of your suit on, it's a $100 fine - unless you're working out," Maddon explained. "Like going to the ballpark, in the hotel, going out for Starbucks in the morning, if you're seen without any part of the suit -- [you could wear] the coat, tie, pair of pants, shoes, socks, some method or form of the outfit. If you're seen without it, it's a [$100]."
"It's special when you have a leader who gets it and understands things that can lighten things up and create an atmosphere that everyone wants to be a part of. So it makes it more fun," reliever Clayton Richard told the Chicago Tribune.
In 2015, the Cubs' theme night was essentially a pajama party for grown men.
For an overnight flight from LA to Chicago, the team all wore pajamas and again, it was at the request of Maddon, who apparently finds his normal clothes a little too boring.
The Cubs tied a franchise record by starting the season 8-1 and they are currently the best team in the Majors.
However, Cubs fans are taking it all one day at a time after decades of heartbreak and disappointment.