Oldest US WWII veteran dies at 110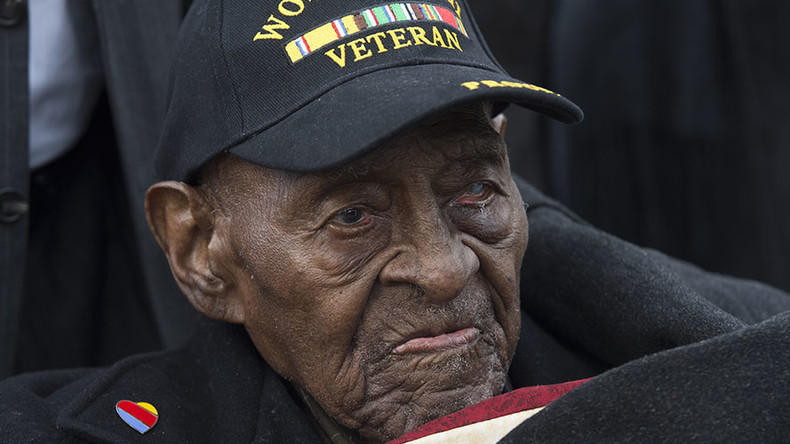 The oldest living American World War II veteran, and oldest living man in the US, has passed away at the age of 110. Frank Levingston died Tuesday afternoon in Shreveport, Louisiana.
Levingston was born in November 1905 in North Carolina, as one of seven children. He grew up in northern Louisiana, and enlisted in the US Army in 1942. He served as a private during the Naples-Foggia Campaign in Italy ‒ from 1943 to early 1944 ‒ and was honorably discharged in 1945.
"I was so glad to get out of that place," Levingston said about his time in North Africa and Italy, during a 2015 visit to Washington, DC, shortly after his 110th birthday.
After the war, Levingston became a union worker in the construction field. He never married, and lived alone in Lake Charles, Louisiana until last month.
"I can remember the day I was inducted in the Army until the day I was discharged," he told KPLC-TV in November 2015, when he turned 110. "I've been through so many dangerous things and I'm still here. I'm thankful to the almighty God for it. That's all I can say."
READ MORE: #DigitalVDay: Start online day-to-day journey to Victory Day celebrations

Levingston was briefly the oldest living American man, following the April 19 passing of Felix Simoneaux, born in May 1905. He became the nation's oldest veteran following the August 2015 death of Emma Didlake, 111, who had served in the Women's Army Auxiliary Corps.
The mantle of the oldest living WWII veteran has passed to Richard Arvine Overton, 109, of Austin, Texas, KLFY-TV reported.
Levingston's funeral is set for May 10 in Cotton Valley, northeast of Shreveport.