Legendary Captain Cook's ship Endeavour might be off Rhode Island – Researchers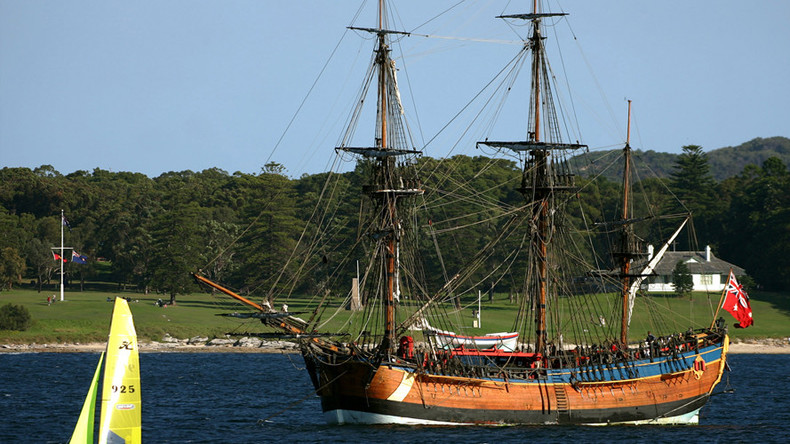 Legendary Captain Cook's ship, the Endeavour, which has been missing for centuries, is believed to be sitting somewhere on the Atlantic seafloor off the coast of Rhode Island's historic Newport Harbor, where a search of five sunken vessels is underway.
The Rhode Island Marine Archaeology Project (RIMAP) will officially announce its findings on May 4, which marks Rhode Island's 240th birthday.
While a find of this sort is historically significant, the possibility of Captain Cook's ship being among the wreckage is especially fascinating.
Researchers believe that the roughly 100-foot vessel is among 13 ships that were scuttled or deliberately sunk by British troops back in 1778 to blockade Newport Harbor. Over two centuries later, there is an 80 to 100 percent chance that the legendary vessel is still there, researchers say.
"All of the 13 ships lost in Newport during the Revolution are important to American history, but it will be a national celebration in Australia when RIMAP identifies the Lord Sandwich ex Endeavour," the group said.
The group has managed to categorize and map all of the sunken ships at nine archaeological sites in Rhode Island's waters.
"One group of 5 ships included the Lord Sandwich transport, formerly Capt. James Cook's Endeavour Bark," RIMAP said in a statement.
However, before the researchers can proceed with their plan, they need to find a special facility where they can store, manage, and display the wreckage removed from the seafloor.
The ship, which British explorer James Cook sailed on his famous 1768-1771 voyage to Australia, was sunk off the US coast during the American War of Independence at a time leading up to the Battle of Rhode Island between American colonists and the British.
While the boat was first known as the HMS Endeavour, it was sold to British shipping magnate J. Mather in 1775. Mather tried to get the British Navy to use the Endeavor to help carry troops and material across the Atlantic during the war, but his offer was declined. He then renamed the vessel the Lord Sandwich and resubmitted it for service, but the ship was again rejected. Finally, after significant renovations, Mather renamed the boat the Lord Sandwich 2 and reintroduced it for naval use. This time, the military accepted it, and the ship sailed for New York in 1776.
Cook's historic voyage has a strong science fiction connection as well. His journeys were the inspiration for the popular Star Trek franchise, with Captain "Kirk" as the embodiment of "Cook," and the Starship "Enterprise" fulfilling the role of the "Endeavor."