Burning down the house: US Soldiers save family in South Korea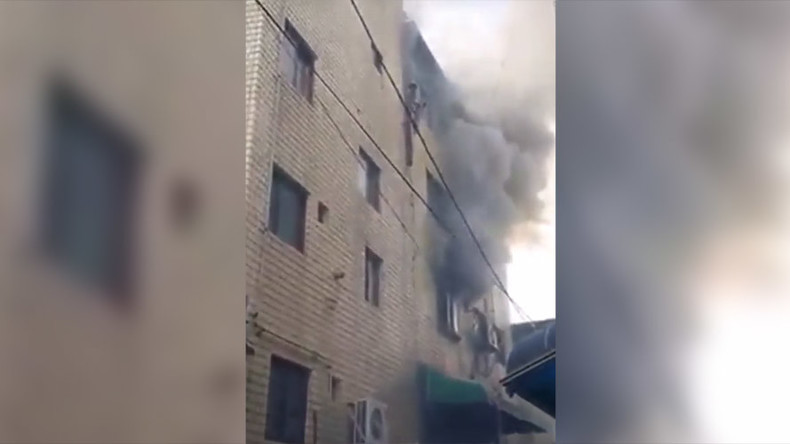 A mother in South Korea took a leap of faith in throwing her three children out of the window of a burning building. She and her children were caught safely in blankets held by US servicemen who happened to be passing by at the time.
When a building caught fire in Pyeongtaek, South Korea, a mother was forced to make a nightmarish decision. The 30-year-old Nigerian woman was with her three children, ages 1, 3 and 4, on the fourth floor of the building when the blaze broke out near the Osan Air base.
While the unnamed mother and her children were trapped, US Air Force Master Sargent Daniel Raimondo was on his way to get dinner, according to CNN. He noticed the smoke and went towards the building, where he and his colleagues assessed the situation and came up with a plan.
Master Sargent Michael Henry and First Sargent Melanie Scott assisted Raimondo in collecting blankets from nearby vendors. The team then tried to convince the woman to throw her babies down to them. "You could tell she was scared. She didn't want to," Scott told CNN.
However, the only way out of the building was down. The mother threw out one child, and then another, but she paused before dropping the third. Raimondo told CNN the "last baby was the most difficult in my eyes, she just wouldn't let her go for some reason," adding "I remember her screaming (at) the baby, 'I love you, I love you. ...' Next thing you know she dropped the baby."
At that point, the only person left to jump was the mother. "The smoke and the fire was just horrendous. You could barely even see her at that point," Raimondo described to CNN.
Finally, she jumped, landing on a pile of pillows that someone had placed under the blanket.
"I just kept yelling and talking to her, 'You're alive! You're alive!'" Raimondo said after she had been rescued.
The mother has remained anonymous, but her husband came forward to thank the people who saved his family.
"I don't know how I would explain my thanks," Prince Enyioko, the father, said, adding, "I was so surprised, I see the people gathering here to rescue my family, especially the military."