Pedestrian killed after man hijacks DC Metrobus, crashes it into gas station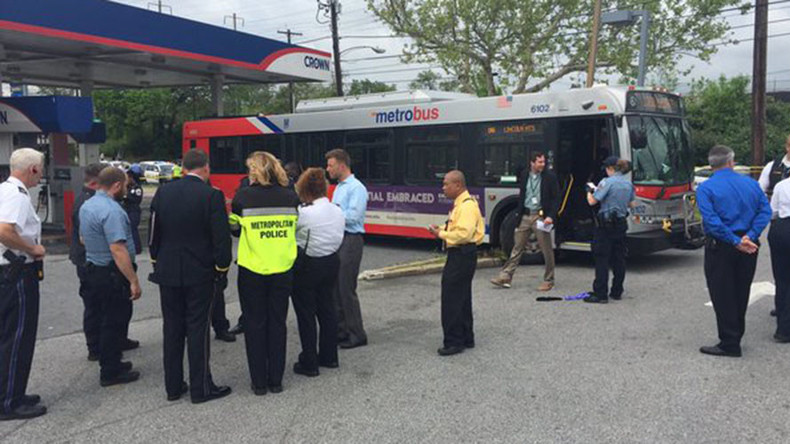 A pedestrian struck by a stolen Metrobus in a gas station lot has now died, Washington, DC police said. The bus has been recovered and at least one suspect is in custody. The driver was stabbed with a screwdriver in the process.
DC Police Chief Cathy Lanier described the three-minute hijacking incident as bizarre, and called the suspect "violent and resistant," the Washington Post reported.
The bus caper began around 10:30 a.m. when a man got up and attacked the driver with a weapon, which journalist Emily Miller said was as a screwdriver. The driver was able to get off the purloined bus, but suffered a back injury in the process, police said, according to WRC.
Passengers also fled the vehicle when they saw the attack occur, Lanier said.
"It's a bizarre incident," Lanier said. "The whole incident occurred in less than three minutes."
The suspect then drove the bus a short distance, caused several crashes and struck a pedestrian. It stopped when it crashed at a gas station on Minnesota Avenue NE.
While it was unclear if any passengers remained on the bus during the hijacking, but Metro Transit Police tweeted that there were no any injuries to riders. The bus driver's injuries are not considered life-threatening.
Police initially said that three juveniles attacked the driver with a screwdriver, WRC reported, but Lanier described the suspect in custody as a man.
Police now believe that the man acted alone, WUSA reported.
Metropolitan Police Department officers were able to respond quickly to the scene because the driver pushed the emergency button before he fled the bus.
The theft of a bus is extremely unusual, Lanier told reporters at the scene.