Pilot pulled from plane crash seconds before fuel tank fireball (VIDEO)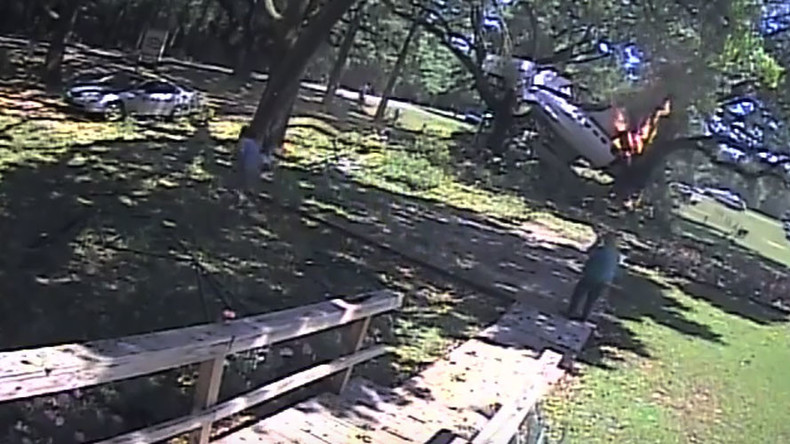 A pilot's dramatic escape from a burning plane wreck has been captured on CCTV, after his twin engine Cessna ploughed into an oak tree in Foley, Alabama.
On Tuesday, the outside parking lot of a towing business suddenly became the scene of a horror smash when the small plane crashed into a tree and caught fire.
Footage of the accident captured by the tow company's CCTV camera shows the heartstopping moment Russell Smith's plane suddenly plunged into the tree.
Fuel leaking from the plane quickly spreads a ring of fire around the crash site, as passersby call the emergency services and check the wreck for survivors.
Amazingly, two men then run into the wall of flames to help stricken pilot Smith from the wreckage.
Seconds later, the plane's fuel tank completely combusts, causing parts of the tree to collapse into the flames.
READ MORE: Solar-powered plane soars over Golden Gate Bridge in fuel-free Pacific crossing (PHOTOS, VIDEO)
The incident happened not far from Foley Municipal Airport, Baldwin County, and incredibly saw Smith escape with only superficial injuries, report Alabama WKRG news.
The US Federal Aviation Administration are investigating the cause of the incident.