Michael Moore to Obama: Flint will riot 'soon' if you don't #ArrestGovSnyder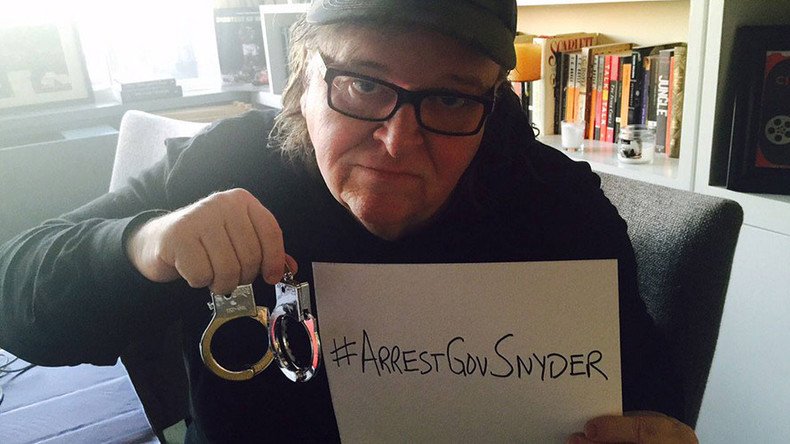 Filmmaker Michael Moore has warned President Obama that riots will begin in the troubled Michigan city of Flint unless their poisoned water crisis is resolved.
The native son, who first became known nationwide for his 1989 gritty documentary Roger & Me, wrote an open letter to the president in advance of his first visit to the 'Vehicle City' since lead contamination decimated the water supply in 2014.
Moore warned Obama not to "make one of those 'we need to rebuild America's infrastructure' speeches" during his May 4 stop, because the problem isn't infrastructure but rather "a hate crime and mass poisoning of Black and poor people."
His message ended with an ominous "The riots here, I'm certain, will begin sometime soon."
The president will meet with residents and receive a briefing on federal efforts in the cleanup. He announced his visit Wednesday in response to a letter from an eight-year-old girl who lives on bottled water with her family and is restricted to 60-second showers so she doesn't make the rashes caused by lead any worse.
It is unknown if the President will meet with Michigan's Governor Rick Snyder who Moore says "has now killed more Americans than ISIS."
He's one of many residents who have called for the arrest of Snyder over his role in the city's water supply disaster, using the Twitter hashtag #ArrestGovSnyder.
Moore criticized the president for taking so long to visit and said he should only come if he has a solution for being Black and poor.
"Do you have a cure for that? Because THAT's the only reason why this has happened," said Moore.
Nearly 60 percent of Flint's population of 100,000 are Black, with 42 percent of residents living below the poverty line, according to the US census.
The water supply first became contaminated in April 2014 when emergency financial managers were appointed to the city by Snyder to eliminate a $15 million budget deficit, even if it meant overriding decisions made by city officials.
As an austerity measure, the city's water source was switched from Lake Huron in Detroit to the Flint River.
The new supply was not treated with anti-corrosives, causing it to leach poisonous lead from service lines.
The emergency management law was invoked in nearby Detroit in March 2013. Snyder appointed Kevyn Orr, a bankruptcy lawyer to oversee the city's finances, and the city filed four months later.
Despite complaints from residents in Flint, state officials insisted the water was safe to drink for a year and a half. In October of last year, the supply was switched back to Lake Huron, but damage has left lead seeping into the supply.
READ MORE: Michigan police tracking social media to keep tabs on Flint water crisis chatter
Some 12 Flint residents died during an outbreak of Legionnaires' disease, which some believe is connected to the lead contamination.
While the governor remains free, three officials have been charged in relation to the poisoning, including Michael Glasgow, the city water plant operator. Marc Edwards, a Virginia Tech professor who helped uncover the lead poisoning, defended Glasgow claiming he made errors, but was not in the same league as the other instigators.
Edwards told Michigan Live that Glasgow "did not have the training that would have created an expectation or a knowledge of how harmful his actions were."
Glasgow claims he was informed by district engineer Michael Prysby that phosphate wasn't required when the city switched water supply.
Prysby, along with district supervisor Stephen Busch, are charged with felony misconduct in office, felony conspiracy to tamper with evidence, felony tampering with evidence, and misdemeanor violations of the Michigan Safe Drinking Water Act.
For more on how Flint got to where they are today, here is the complete Roger & Me documentary.
You can share this story on social media: