The devil you know: John Boehner calls Ted Cruz 'Lucifer in the flesh'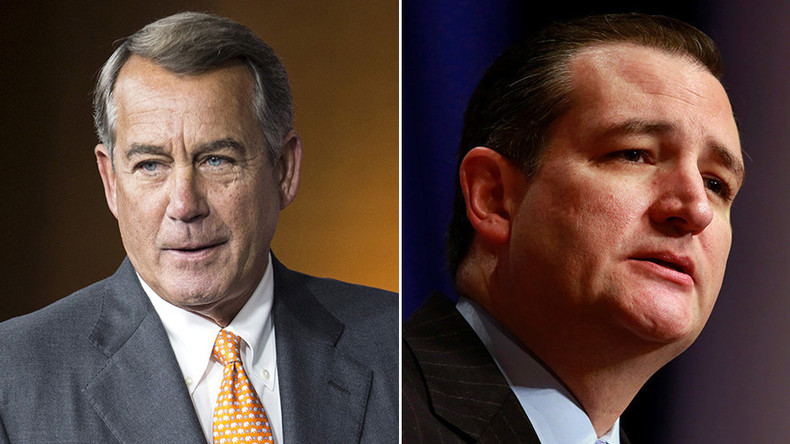 Months after he cried his last tear in the House of Representatives, former Speaker John Boehner (R-Ohio) lashed out once again at GOP presidential hopeful Ted Cruz, calling him a "jack*ss" and comparing him to the devil.
Boehner spoke candidly about the current crop of Republican candidates at a Stanford University event on Wednesday evening, hosted by faculty director David M. Kennedy. The former US congressman took a "joking yet blunt attitude" for much of the evening, according to the Stanford Daily.
It's never been a secret that Boehner doesn't like Cruz. When Kennedy asked the Ohio Republican about the senator from Texas on Wednesday, though, Boehner made a face ‒ drawing laughter from the crowd ‒ before responding in a matter-of-fact, albeit slightly crude, manner.
"Lucifer in the flesh," Boehner said. "I have Democrat friends and Republican friends. I get along with almost everyone, but I have never worked with a more miserable son of a b*tch in my life."
Boehner previously called Cruz a "jack*ss" and a "false prophet." In a September 2015 appearance on 'Face the Nation', he discussed whether the most conservative GOP members in Congress were making unrealistic promises when it came to their crusade to defund Planned Parenthood.
"Absolutely, they're unrealistic!" he exclaimed. "But, you know, the Bible says beware of false prophets, and there are people out there spreading noise about how much can get done."
When asked if he was referring to Cruz, the then-speaker confirmed rumors that during a Colorado fundraiser he had said he was happy the 2016 presidential campaign was keeping "that jack*ss" out of the Capitol.
On Thursday, Cruz responded at an event in Fort Wayne, Indiana.
"John Boehner had some interesting remarks," Cruz said, with his vice presidential pick Carly Fiorina by his side. "He allowed his inner Trump to come out."
Boehner isn't the only Republican with an intense dislike of Cruz. Senator Lindsey Graham (R-South Carolina), himself a former presidential candidate, took plenty of jabs at Cruz at an annual Congressional dinner sponsored by the Washington Press Club Foundation in February.

"If you kill Ted Cruz on the floor of the Senate, and the trial was in the Senate, nobody could convict you," Graham joked.
But Graham eventually held his nose and endorsed Cruz. Boehner, who said Wednesday that he and GOP frontrunner Donald Trump are "texting buddies," won't do the same. The two too-tanned men are longtime golf partners, and Boehner said he would vote for the billionaire businessman in the general election. He would not, he added, do the same if Cruz were to come from behind to win the nomination.
Despite his dislike for the man who is oft-considered the Zodiac Killer and whose female doppelganger is set to star in a porn, calling Cruz a "jack*ss" may not be such a bad thing in Boehner's book. He referred to himself as the same thing more than once on Wednesday.
"You can call me boner, beaner, jack*ss, happy to answer to almost anything," Boehner said to start the evening.
And, when discussing his retirement, Boehner said: "I think my proudest accomplishment is walking out of there the same jack*ss I was 25 years before."
No one tell him that jack*ss is a term for a donkey. You know, like the symbol of the Democratic Party.
You can share this story on social media: