'A little bit of a maniac': Trump turns on Ted Cruz after Iowa poll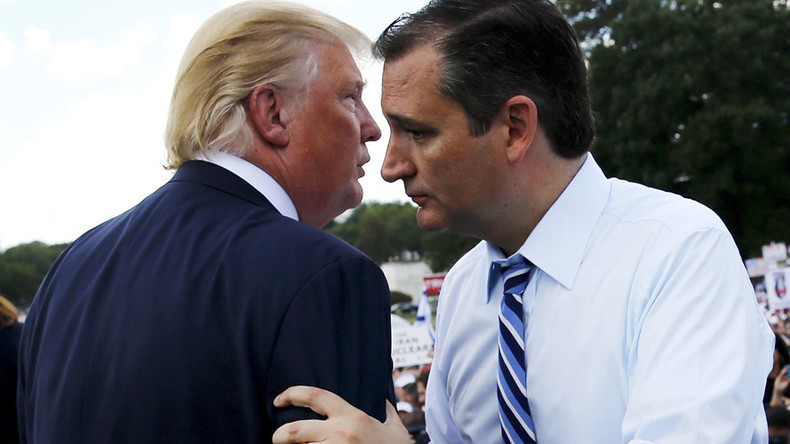 Donald Trump has finally turned on Ted Cruz. The Republican bromance could only last so long, and with Cruz surpassing Trump in an Iowa caucus poll on Saturday, it may be over for good.
"I don't think he's qualified to be president," Trump said during Chris Wallace's Fox news show on Sunday. "Look at the way he's dealt with the Senate, where he goes in there like a – you know, frankly like a little bit of a maniac. You're never going to get things done that way."
Wallace mentioned leaked comments Cruz made at a closed-door fundraiser earlier this week, saying that he questioned Trump's judgment.
"He said it behind my back," Trump said, before claiming Cruz does not have the right temperament and judgment for the job of president.
Trump said he wants people to compare his "deal making" record with Cruz's Senate record.
READ MORE: 'Disgraceful' Donald Trump in Twitter brawl with 'dopey' Saudi Prince over Muslim comments
Cruz is known for his use of government shutdown tactics in Congress. He was called a 'jackass' by former house speaker John Boehner.
Cruz is the frontrunner in an Iowa poll by Bloomberg and the Des Moines Register released on Saturday that shows Cruz leading Trump by 10 points.
The two politicians have largely avoided turning on each other until now.
Both men have claimed to admire each other, with Trump previously saying he is a fan of Cruz, and Cruz giving Trump credit for bringing important issues to the race.
READ MORE: Cruz campaign creeps on Facebook user data in search of advantages
Both candidates stand to gain from remaining cordial, so as not to isolate the votes of their rival's supporters should one of them fall. Cruz and Trump market themselves as outsiders and take aggressive stances on immigration while appealing to fears of terrorism.