'Disgraceful' Donald Trump in Twitter brawl with 'dopey' Saudi Prince over Muslim comments
Published time: 12 Dec, 2015 11:17
Edited time: 12 Dec, 2015 11:51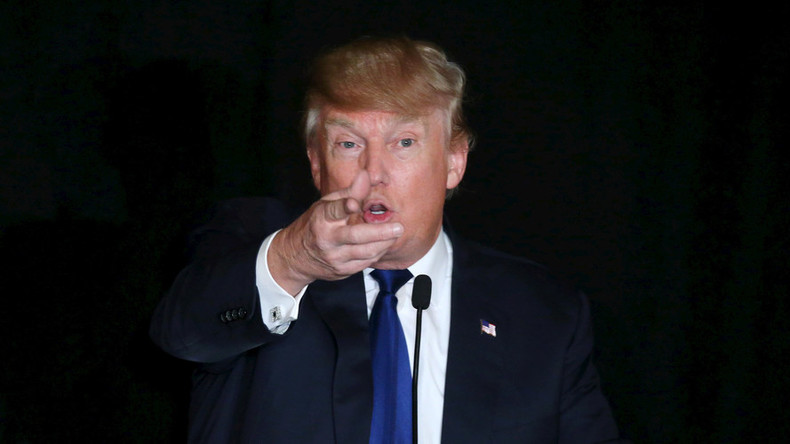 Donald Trump, who's garnered quite a reputation with the public for flying off the handle online, has been attacked as a "disgrace" by a Saudi Prince on Twitter. It was in response to Trump's comments following the California shootings.
"You are a disgrace not only to the GOP but to all America," Prince Alwaleed, chairman of Kingdom Holding, told Trump on his Twitter wall. The billionaire took issue with the Republican candidate's call to ban all Muslims from entering the country. This was in response to the San Bernardino shootings, carried out by a radicalized Muslim couple.
.@realDonaldTrump You are a disgrace not only to the GOP but to all America. Withdraw from the U.S presidential race as you will never win.

— الوليد بن طلال (@Alwaleed_Talal) December 11, 2015
Trump did not hold back on pleasantries either, calling Alwaleed a "dopey prince," who wishes to exert his influence over the US with "daddy's money."
Earlier this month, Trump landed himself in hot water with his anti-Muslim comments. It led to a UK petition signed by 370,000 Britons not to allow him in the country. This was the beginning of a wider, more global political backlash against the business mogul.
Trump advocated a total shutdown of Muslims entering the US "until our country's representatives can figure out what is going on."
"Until we are able to determine and understand this problem and the dangerous threat it poses, our country cannot be the victims of horrendous attacks by people that believe only in jihad, and have no sense of reason or respect for human life," he said on Monday.
Other countries followed the UK's example. The news quickly led to a similar backlash across the Middle East, including Israel's Knesset. Despite this, Trump will still meet Israeli Prime Minister Benjamin Netanyahu on December 28.
While on Thursday, Damac, the Dubai-based real estate company behind a $6-billion golf complex it is building together with Trump, has decided to remove any trace of the billionaire's name or image from the complex.