Chevron lobbied for TTIP right to fight foreign regulations – report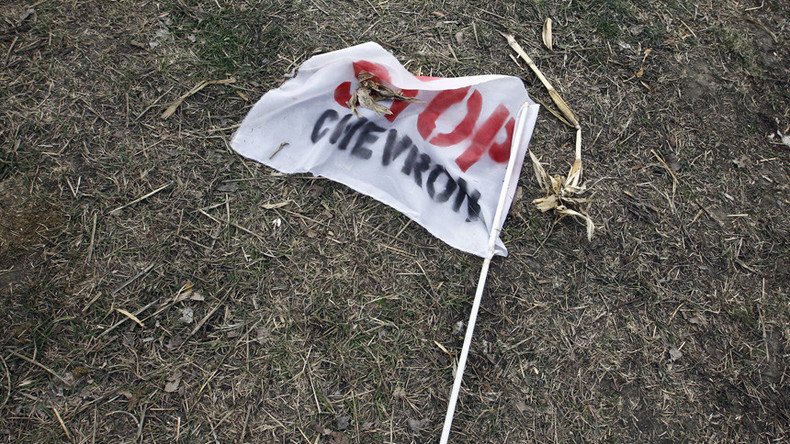 Multinational energy company Chevron lobbied the European Union to include a provision in a potential trade deal with the US that would allow companies to challenge laws in foreign nations if they affect a corporation's profits, a new report stated.
According to the Guardian, which obtained details of the two-year-old meeting between EU officials and Chevron, the California-based company wanted to see the controversial legal provision added to the Transatlantic Trade and Investment Partnership (TTIP) between the US and EU, arguing that it would serve as a "deterrent" against strict regulations or rulings.
Specifically, Chevron wanted to ensure the inclusion of investor-state dispute settlement (ISDS) courts in the pact, which allows companies to challenge laws or regulations in another nation if they negatively impact a business' operations.
These courts have been vehemently opposed by environmentalists and other activists, who argue that they threaten state sovereignty and discourage nations from implementing regulations because they may face multi-billion-dollar lawsuits. Both France and Germany have stated they don't want to include ISDS courts in the TTIP.
"ISDS has only been used once by Chevron, in its litigation against Ecuador," the minutes of an April 2014 meeting between Chevron and EU officials reads, according to the Guardian. "Yet, Chevron argues that the mere existence of ISDS is important as it acts as a deterrent."
The case in Ecuador revolves around a decision ordering Chevron to pay $9.5 billion to native people in the country over the company's alleged dumping of 18 billion gallons of toxic oil waste into the Amazon. The native people and environmentalists say there have been spikes in cancer as a result, in addition to ecological problems and oil pollution.
Chevron is challenging the ruling in ISDS courts at The Hague, however. In March 2014, a US judge ruled the decision against Chevron was obtained by a legal team that used bribery, fraud and extortion to influence the case, and blocked American courts from being used to collect on the settlement.
In its meeting with EU officials, Chevron seems to have argued that the case in Ecuador is actually a positive reflection on ISDS courts.
"Chevron's case is often used as an example not to have ISDS," the minutes read. "This is a misperception since the case clearly proves the exact opposite. The company is raising awareness on this issue in Brussels and has handed over a more detailed analysis of the case."
Not everyone agrees, though. One researcher told the Guardian that governments could become reluctant to see through regulations they feel are necessary if there are multi-billion-dollar lawsuits hanging over their heads.
"This document [the minutes] shows that the power to use investment arbitration as a shackle on environmental regulations is a key reason why multinationals like Chevron defend them," said Transnational Institute researcher Cecilia Olivet, also a member of the presidential commission auditing Ecuador's bilateral investment treaties.
In one case, cigarette maker Philip Morris sued Australia over regulations mandating plain packaging, with many saying the ruling there influenced New Zealand's decision to hold off on its own plans to regulate labels.
On Monday, Global Justice Now reported that the British government found there are "a lot of risks and no benefit" to the EU-US investment chapter of the TTIP, which would involve use of the ISDS.
According to the report, the authors stated, "we would expect an EU-US investment chapter to be regularly invoked by US investors against the UK for governmental actions that would normally not be challengeable under UK law."
Another provision reportedly leaked by the Corporate Europe Observatory suggested the TTIP would empower the European Commission to negotiate cooperation with the US, while domestic governments and the European Parliament would become less powerful.
In March, Director of Global Justice Now Nick Dearden criticized the leak.
"It absolutely confirms our fears about TTIP – it's all about giving big business more power over a very wide range of laws and regulations," he said to RT. "In fact, business lobbies are on record as saying they want to co-write laws with governments – this gets them a step closer."
A spokesman for the European Commission denied that the leak was accurate, however.
"These accusations are unfounded and are not reflected in the EU proposal for simplifying rules for EU exporters," the spokesman told RT.
You can share this story on social media: