Even the British govt's own TTIP assessment says US-EU deal has 'lots of risks and no benefit'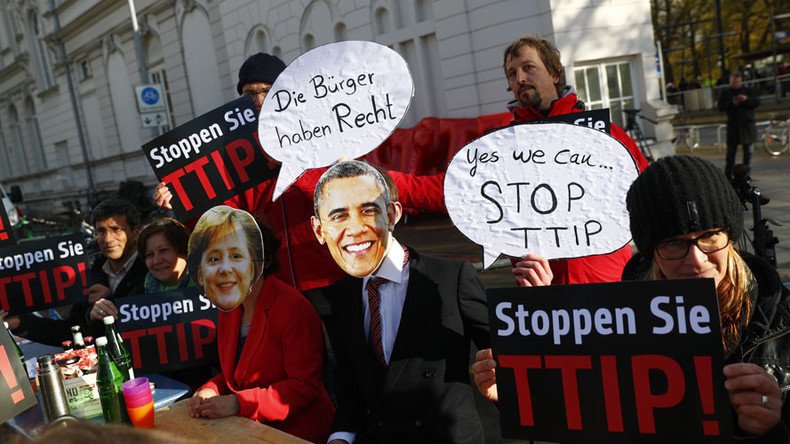 The British government's sole assessment of the shadowy Transatlantic Trade and Investment Partnership (TTIP) deal indicates there are "lots of risks and no benefit," according to documents seen by Global Justice Now.
In February a freedom of information (FoI) request was made to the Department for Business Innovation and Skills (BIS) to find out whether risk assessments had been carried out in relation to the secretive deal, which is currently in its 13th round of negotiations.
The BIS reported that the only assessment had been carried out by the London School of Economics (LSE), which found "little reason" to believe the "EU-US investment chapter" – as the deal is sometimes called – would give the UK significant political or economic benefits.
The report also examined the issue of secret courts, where investor-state dispute settlement (ISDS) proceedings would allow US firms to sue national governments.
The authors argue that "we would expect an EU-US investment chapter to be regularly invoked by US investors against the UK for governmental actions that would normally not be challengeable under UK law."
Global Justice Now director Nick Dearden gave a withering assessment of the deal and of the government's analysis of it.
He called it "staggering" that that government was pushing the UK into a system of "secret corporate courts under TTIP" with "almost no assessment of what the risks are for our policy makers or the taxpayer."
"What's even worse is that the one assessment that the government has commissioned shows that there are lots of risks and no benefit."
The "toxic trade deal" promises "harmful consequences for ordinary people, and new powers and privileges for corporate elites," Dearden added.
You can share this story on social media: