US deploys F-22 stealth fighter jets to Romanian base on Black Sea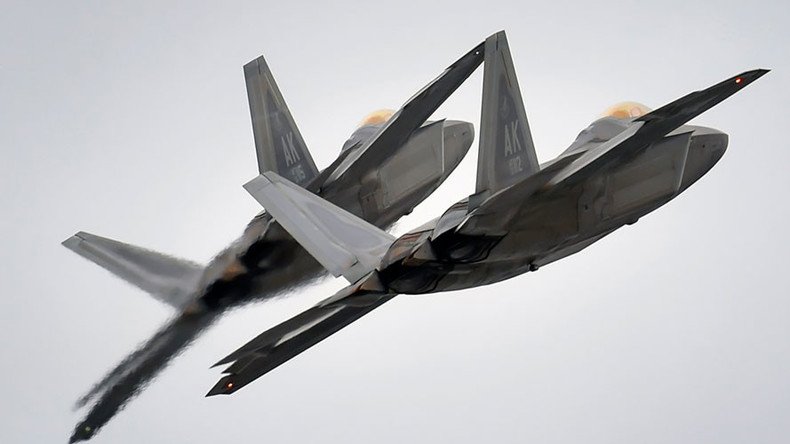 Two American F-22 Raptor 5G stealth fighter jets and a refueling aircraft have been deployed to an airfield in Romania as manifestation of NATO's support to its Eastern European members against "Russian aggression."
The US Air Force aircraft arrived at the air base on the Black Sea, less than 400km from the Russian military stronghold of Sevastopol on the Crimean Peninsula.
"For the first time in Romania, the next-generation combat aircraft F-22 Raptor, part of the US Air Force Europe mission, arrived today at Mihail Kogalniceanu military base," the US Embassy said on its Facebook page Monday.
A KC-135 refueling plane accompanied two F-22 Raptor fighters on their way from the UK, where Washington has deployed 12 F-22s at Lakenheath, a British air base in eastern England, Reuters reports.
After citizens of the Crimean Peninsula voted in favor of reuniting with Russia in 2014, European countries and the US introduced economic and political sanctions against Moscow. US President Barack Obama further promised in 2014 to bolster military capabilities of NATO's eastern members. The bloc has been conducting a large number of military training near the Russia's western borders over the last two years, though without permanently stationing large forces on the territory of alliance's new member states.
In August 2015, US Air Force Secretary Deborah Lee James said the F-22 deployment to Europe as part of the "European Reassurance Initiative," would occur "very soon."
READ MORE: US to deploy F-22 Raptor jets in Europe
By the end of August 2015, four F-22 Raptors assigned to the 95th Fighter Squadron at Tyndall Air Force Base arrived at Spangdahlem Air Base in Germany as part of Pentagon's continued "push to deter Russia."
The alliance's warships are maintaining constant presence in the Black and Baltic Seas as part of intelligence and containment purposes, which has already led to a rise of tensions.
In its national security strategy for 2016, Russia proclaimed NATO's expansion to the east a threat. Moscow also held several wide-scale military drills all across Russia, including its western borders, in the past year.
Most recently, Russian pilots on Sukhoi Su-24 bombers buzzed the destroyer USS Donald Cook in the Baltic Sea in mid-April, when the US destroyer was around 70km away from a Russian naval base.
With a reported price tag of $190 million, F-22 Raptor fighter jet developed by Boeing and Lockheed Martin remains the most expensive fighter jet in the world. The aircraft was introduced into service in 2005 and its production was halted in 2009 because of the price.
Altogether 187 aircrafts have been constructed though initially production of 749 planes was planned.
The first military deployment of the aircraft took place in 2014 in military operation against Islamic State (IS, formerly ISIS).
You can share this story on social media: