Scientists study 'magic of bird flight' for future windproof drones (VIDEO)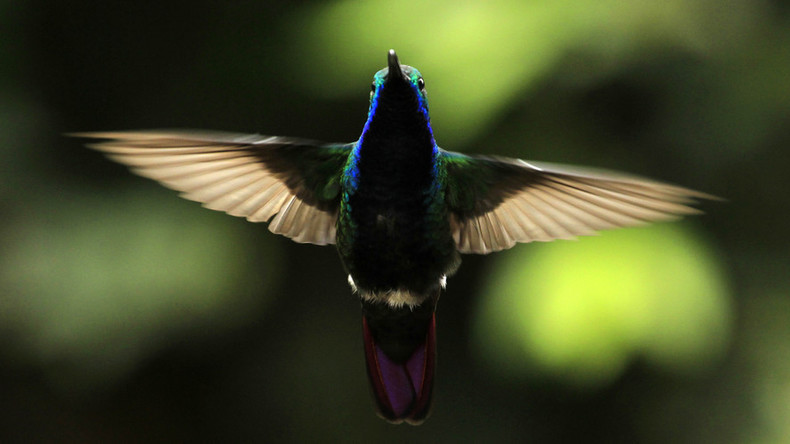 Drone technology never stays still for long, and scientists at Stanford University are taking tips from the avian world to create hardy flying robots able to withstand powerful gusts of wind.
Stanford engineering professor David Lentink has already begun using a new state of the art wind tunnel to devise "better" drones that can power through more than a slight breeze.
By gaining insight into how birds respond to unpredictable weather, it is hoped that their natural instincts can be embedded in future delivery drones or rescue copters.
According to the university website, the study could even yield a future avian robot capable of extending and contracting its wings depending on which way the wind is blowing.
Researchers are using a small scale tunnel designed with the help of the US Air Force to study the maneuverability of birds in wind turbulence.
Creatures such as lovebirds, hummingbirds, and parrotlets are placed within the tunnel for flight sessions in which their wing beat and body movements are monitored using high speed cameras and motion capture devices.
"It's a tunnel in which we can study how birds fly up close so that we can learn the magic of flight and translate it into better flying robots," Lentink explains in a newly released video.
"What's great about it is that we can vary the speed of the wind very precisely, from close to 0 meters per second, all the way through to about 50 meters per second, which is very fast."
Down the line, Lentink aims to fly a whole flock of birds in the tunnel to explore how the movement of one affects the flight of another.
"We need to study birds up close so we can figure out what their secret is to flying so stably under such difficult conditions, and apply that to aerial robotic design," Lentink told Stanford University news.
Building the tunnel was a painstaking process involving thousands of man hours.
However, the incredible results can be viewed in just two minutes in a neat time lapse recording.