'Zero communication': Latest DC metro incident leads to massive online outrage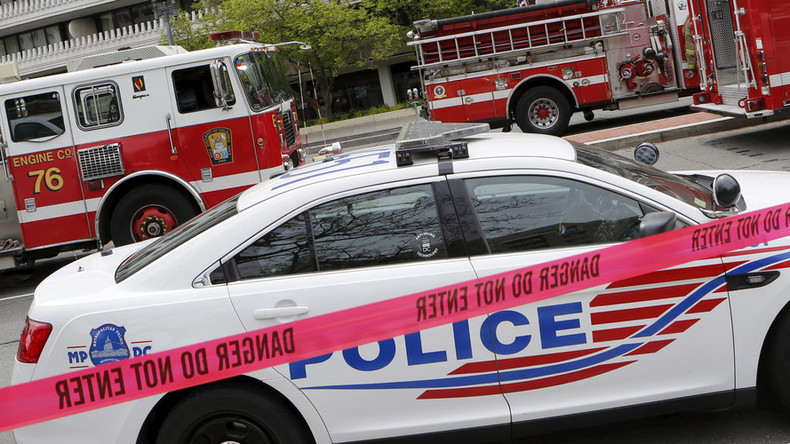 Washington DC residents took to Twitter on Saturday, outraged by how the city's metro staff handled the latest accident with heavy smoke and mass evacuation. DC's metro has been facing calls for a complete overhaul, as it poses a "daily danger" to riders.
READ MORE: Chaotic evacuation after blast & heavy smoke in Washington, DC metro station
Locals are used to feeling frustrated with their own metro system, but Saturday's incident seemed to be the last straw, as hundreds of tweets were posted online, criticizing the metro and its staff.
Tenleytown and Friendship Heights Metro stations were evacuated after reports that an explosion in a mechanical room had caused a fire and heavy smoke.
Witnesses said there was lack of communication, which caused chaos, when flames and heavy smoke became visible and seemed to be entering one of the train.
Passengers in the train were not informed as to what was happening, nor were they told that the train was going to reverse and go back to Tenleytown station.
Riders described "losing confidence" in the system and beginning to "self-evacuate" for the fear of dying in the subway tunnel.
Making things worse was the incident fresh on the DC riders' mind when a woman died in the metro just over a year ago in a smoke-filled subway car near the L'Enfant Plaza station.
READ MORE: Woman dies in Washington DC metro smoke incident
Twitter users also said that the metro simply got "lucky" that there were no injuries this time around, warning that next time things might play out differently, unless the system improves.
Overall, residents' tone remained very pessimistic, with hopeless messages that even incidents like the one on Saturday won't force the metro to make significant upgrades.
Some responses shed light on how serious the problem appears to many people, with metro riders describing carrying a special list of items when using the subway, including respirators, masks, flashlights and comfortable shoes.
The DC metro shutdown in March uncovered that at least 27 urgent issues that needed immediate repairs and another 338 other problems that needed to be taken care of during regular maintenance but for some reason were not.
The Washington metro system celebrated its 40th birthday last month. However, the anniversary came and went amid public distrust and decline in ridership.
After steadily growing from the 1990s to 2009, the number of residents taking the subway has been declining ever since, according to a transit authority report released earlier this year.
Many have blamed bad management and lack of funding for the ongoing mishaps. Not enough money set aside for repairs, the metro is forced to fix things as they break, which created a dangerous situation underground, according to The Economist.
The system attempted to raise funds by increasing fares, which has largely just turned riders away, contributing further to the decline in ridership.
DC's metro lack of money comes from not having a so-called dedicated funding, which exists in NYC and Boston's subways. Without it, DC is left with just local and state subsidies as well as fare and toll revenue.
A dedicated source of funding usually brings revenue from setting up sales and property taxes near Metro stations.
The metro requires $25 billion over the next 10 years to operate and fix safety issues, The Washington Post reported.