5-alarm fire in Arizona: Apartment complex under construction swallowed in flames (VIDEOS, PHOTOS)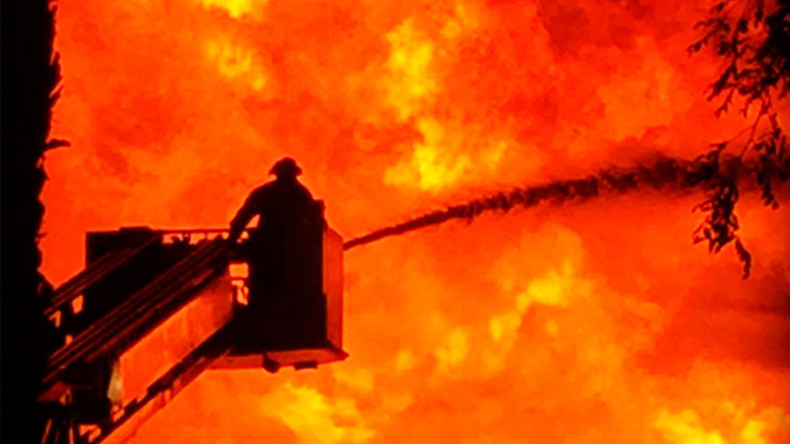 A huge fire has broken up at an apartment complex in Arizona, officials said, adding that authorities started evacuation of the local resident. At least one firefighter has been injured in the blaze.
The fire started at an apartment complex under construction in the Phoenix suburb of the town of Gilbert. It then spread to nearby homes.
At least 120 firefighters have been deployed at the scene of the incident, KPNX news reported, adding that one firefighter received burns to his hands and three officers have been treated for smoke inhalation.
Heavy smoke and flames have been seen coming from the construction site, according to numerous photos and videos on social media.
Warner Road from Gilbert to Lindsay is closed as firefighters are battling the flames, Gilbert fire officials said.
Later, Gilbert fire officials said that firefighters had managed to contain the fire and it was no longer spreading, NBC news reported.
Nearby homes and businesses were evacuated.
"With a wood frame, it's going to be exposed wood which is going to burn hotter and faster," Gilbert Fire Rescue Gary Hildebrandt said. "With the winds kicking up, we had a hard time containing it right away."
"I'm glad no one is living in there [where the fire broke out]," local resident Karisten Stone told The Arizona Republic newspaper. "We've watched the fire jump from building to building."
At least 45 people have been evacuated from a nearby apartment complex, meters away from the incident scene.
"Our plan is to get them back to their homes ASAP," Deputy Fire Chief Mike Connor said.