Virginia governor restores felon voting rights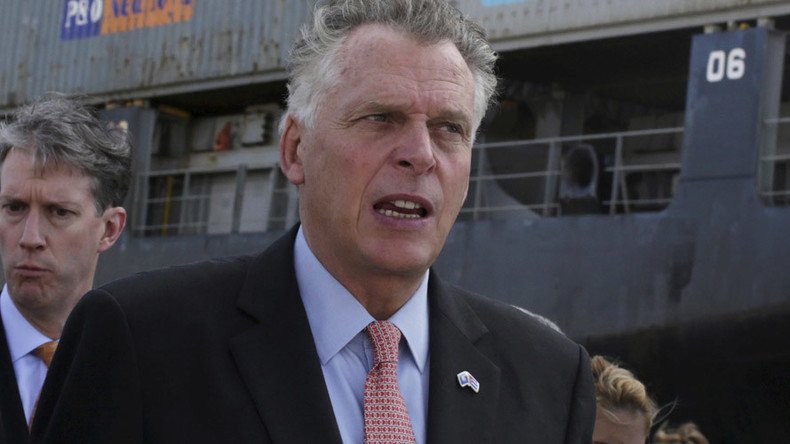 Virginia Governor Terry McAuliffe signed an executive order to grant rights to felons for the first time in the state's history since the Civil War. The move will affect 206,000 people and may also impact presidential elections results.
The McAuliffe administration said the order, announced Friday at the Virginia state Capitol, will impact the rights of the people formerly convicted of violent and non-violent felons in Virginia and who have completed their sentences and post-prison probation or parole but not yet applied to have their voting rights restored. Virginia is one of four US states that requires former felons to apply for reacquisition of voting rights, the administration said, the harshest class of voting restriction for former felons in the US.
Former felons affected by the order will mostly include African-Americans, who are disproportionately affected by harsh sentencing within the US legal system. One in five African-Americans in Virginia are disenfranchised, according to the Sentencing Project, an organization that advocates for felons' voting rights.
"There's no question that we've had a horrible history in voting rights as relates to African-Americans — we should remedy it," Gov. McAuliffe, a Democrat, said Thursday, according to the New York Times, in a preview of his Friday announcement. "We should do it as soon as we possibly can."
The order applies to "any felon who has completed any term of incarceration and completed any period of supervised release, probation or parole, for any and all felony convictions," according to documents cited by the Richmond Times-Dispatch.
"Under the Constitution of Virginia, the governor has the authority to 'remove political disabilities consequent upon conviction for felonies,'" reads a draft of research for the order obtained by the Times-Dispatch.
"Using this authority, the governor has issued an order restoring civil rights to a large number of Virginians currently disenfranchised for a felony conviction."
The research draft goes on to reference the history of voter disenfranchisement pertaining to felons in Virginia and other states.
"Across the South and in Virginia, felon disenfranchisement laws, together with poll taxes and literacy tests, have had a disproportionately negative impact on African-America voters, and have at times been used intentionally to consolidate and preserve white control over the political process."
The McAuliffe administration previously eased restrictions on the application process felons were required to conduct to regain voting rights. The administration dropped drug offenses from the collection of violent felonies considered ineligible for a restoration of rights. Furthermore, a felon no longer must pay all outstanding court fees until voting rights are restored. Previous Virginia governors, while not going as far as McAuliffe, had also made moves to loosen restrictions on felon voting rights, the Times-Dispatch reported.
"This will be the single most significant action on disenfranchisement that we've ever seen from a governor, and it's noteworthy that it's coming in the middle of this term, not the day before he leaves office," Marc Mauer, executive director of the Sentencing Project, told the New York Times. "So there may be some political heat but clearly he's willing to take that on, which is quite admirable."
Top Virginia Republicans denounced the move on a variety of fronts. Most prominent of the claims being that McAuliffe, a longtime friend of Democratic presidential candidate Hillary Clinton, is aiming to impact the 2016 presidential election. Virginia is a highly-contested state among Republicans and Democrats, and the restoration of voting rights for felons, mostly African-Americans, is seen as a possible boon to the Democratic Party.
"The singular purpose of Terry McAuliffe's governorship is to elect Hillary Clinton president of the United States," said William J. Howell, Speaker of the Virginia House. "This office has always been a stepping stone to a job in Hillary Clinton's Cabinet."
Howell added that he was "stunned at [McAuliffe's] broad and unprecedented view of executive power … and I am stunned at his willingness to restore the rights of the most heinous criminals without batting an eye."
John Whitbeck, chairman of the Virginia Republican Party, said in a statement that the move was a "transparent effort to win votes" that "sullies the hard-won second chances for those who have worked so hard to overcome their mistakes."
"Governor McAuliffe could easily have excluded those who have committed heinous acts of violence from this order, yet he chose not to," Whitbeck said. "His decision to issue a blanket restoration, without regard to the nature of the crimes committed doesn't speak of mercy. Rather, it speaks of political opportunism."
An estimated 5.85 million Americans have lost their voting rights because of state laws aimed at convicted felons, according to the Sentencing Project.
"Felony disenfranchisement is an obstacle to participation in democratic life which is exacerbated by racial disparities in the criminal justice system, resulting in 1 of every 13 African-Americans unable to vote," the organization says.
The US South has the highest concentration of states with the most restrictive of such policies. In Florida, an estimated 2 million residents are permanently barred from voting given their conviction for a felony, including non-violent crimes.
Maine and Vermont are the only states with no voting prohibitions for felons. Twelve states bar felons from voting even after they have completed probation or parole, Mauer said.
You can share this story on social media: