'It is un-American': Nearly 6 million US citizens with felony convictions can't vote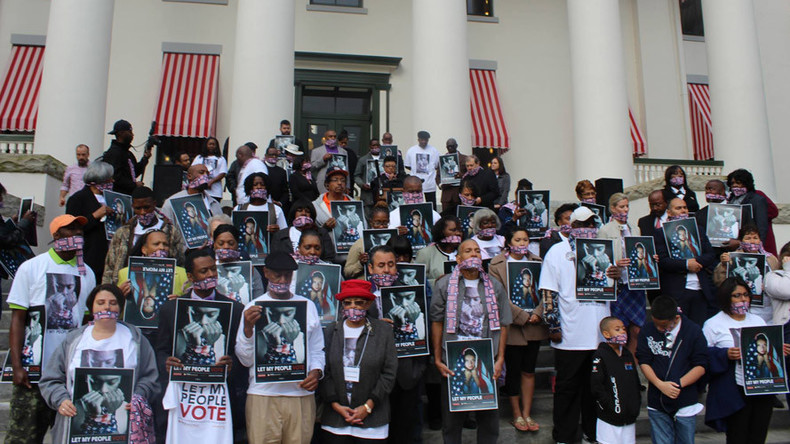 In an election year, when voting has become popular again, states that disenfranchise their citizens for former felony convictions are being thrown into sharp relief. In three states, once a person is convicted of a felony, their civil rights are revoked permanently.
Over two million Floridians can't vote, can't serve on a jury and can't obtain some work licenses after being convicted of a felony, even for a non-violent crime.
One former felon, Desmond Meade, has confronted the debilitating effects of revoked civil rights, and is fighting back with a petition drive to restore those rights.
"It's a fly in the face of democracy. It is un-American," Desmond Meade, executive director of Florida Rights Restoration Coalition (FFRC), told RT.
Desmond Meade was released from prison in 2004 after serving three years for illegal firearm and drug possession. A father of five, he went back to school and earned a law degree from Florida International University, but because of the state's prohibition, he was denied a chance to apply for a license to practice law.
"You can't vote, you can't serve on a jury, and you cannot run for office," Meade said. "The other impact touches on employment where there are certain occupational licenses you can't get. In my case, I cannot even practice law because I am not allowed to apply to the Florida bar until my civil rights have been restored."
The Sentencing Project analyzed 1996 Justice Department statistics along with Human Rights Watch and found more than six million citizens have been stripped of voting rights nationwide.
Under Florida law, civil rights can only be restored by the state's clemency board, chaired by Republican Governor Rick Scott. Since 2011, the state has reviewed over 100,000 cases and only restored civil rights to less than 2,000 citizens. The board meets only four times a year, and according to reports, there are over 20,000 cases pending.
"No matter how badly you feel or how much retribution you might have for these individuals for the crimes they have committed. They have served their debt to society," Randall Berg, Executive Director of the Florida Justice Institute told RT. "We as a society ought to want to get them back on a path towards being a contributing member of society."
Florida is not the only state with such a prohibition. Kentucky and Iowa also impose a lifetime ban on voting by felons.
Meade, however, is fighting back by seeking to put a state constitutional amendment on the Florida ballot in 2016 through a statewide petition drive pushing for automatic restoration of voting rights for non-violent felons. His organization, FFRC, is one of a group of 70 plus national, statewide, and local organizations, like the ACLU and NAACP, committed to overturning the disenfranchisement law in Florida.
"People ask me why don't I go to other states and take the state bar exam," Meade said. "And I tell them it reminds me too much of the time of slavery when all a slave had to do was cross a state line for freedom. I think in the year 2016, no American citizen should have to go to another state for basic American rights."