Pet tiger found in Texas, police seek owner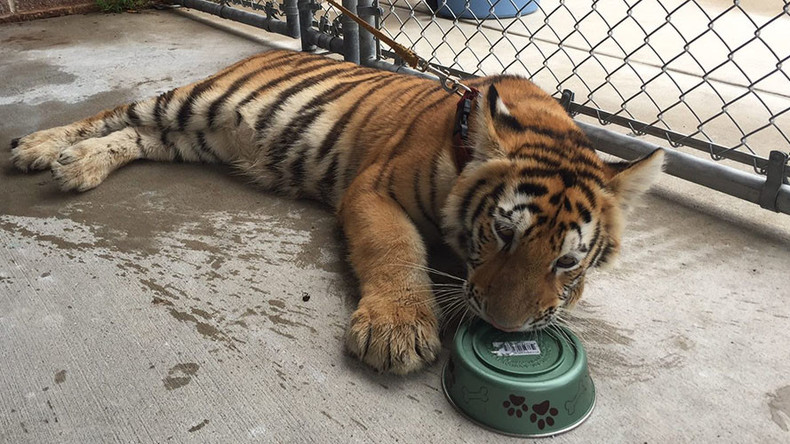 Someone is missing a pet tiger in Southeast Texas, where police received multiple calls from residents who spotted the young animal wandering around all by her lonesome. The big cat was wearing a collar and a leash, but no one was on the other end of it.
The Conroe Police Department began receiving phone calls at 11:50 am on Thursday reporting a small tiger on the loose. Given that tigers are not native to the Houston, Texas suburb, this probably seemed pretty strange. Not all of those encountering the lost pet had the same reaction, however.
Read more: 'Thumb monkeys' stolen from the Amazon all the rage in China

Erin Poole and Jonathan Gessner were out driving when it happened.
"I see something run into the bushes – it was really big," Poole told KHOU. "And Jonathan hopped out of the car and was like, 'I'm gonna catch it.'"
Gessner told the Houston Chronicle that he noticed the cub lying in the bushes, so he approached her. As he got closer, she started "shaking her butt like a cat getting into attack mode."
However, instead of turning around, he kept walking towards her until she charged him – and put her paws on his shoulder, and licked his face – as happy an ending to the situation as could possibly be.
Despite her willingness to cooperate with authorities, Conroe police are not pleased with the young tigress' presence.
Dorcy McGinnis of the Conroe Police Department told KHOU, "[The tiger] is a very strong animal. It definitely would not be appropriate here in the City of Conroe."
Although tigers can be legally kept as pets in the state of Texas, Conroe's city ordinances prohibit owning or harboring a "dangerous animal" in the city.
The friendly tiger is not the only strange animal sighted in Southeast Texas. Recent flooding in the Gulf Coast region has unearthed some not-so-fuzzy friends, KPNX reported.
Beaumont has reported a spike in sightings of alligators and venomous snakes. Gary Saurage, owner of Gator Country – an alligator and reptile rescue – claims to have received six calls in the past week requesting that alligators or large snakes be removed.
"As the water starts to recede, we'll get even more calls, because then those animals are stuck in those places," Saurage told KPNX.
As Southeast Texas dries out, hopefully there will be more friendly mammal stories than venomous snakes.