Bystander effect: Video shows man die in Chicago street while witnesses do nothing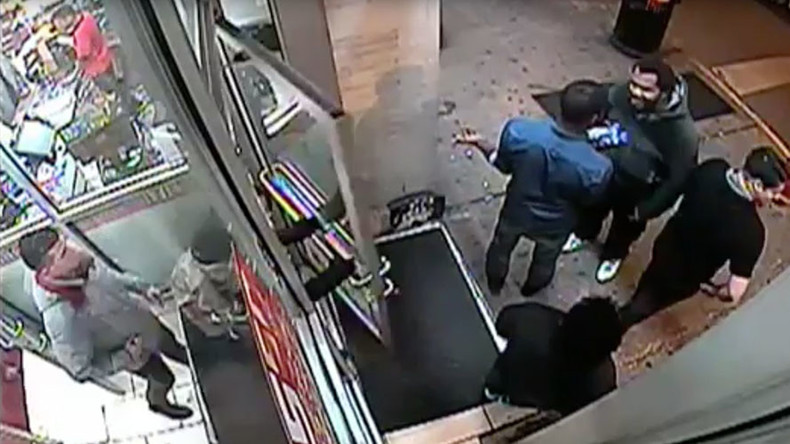 Dozens of people looked on as a man lay in the street after suffering a surprise knockout blow to the head outside a 7-Eleven in Chicago. Video footage shows that bystanders did nothing except walk away, even when a taxi cab ran over the man, killing him.
In the two minutes that Marques Gaines, a cocktail server, was unconscious in the crosswalk on North State Street, cars drove around him and passersby did nothing to help, security surveillance video released Wednesday showed.
Moments later, a taxi turned the corner and drove over Gaines, who died at a Chicago hospital a short time later. The incident occurred on February 7.
According to a lawsuit brought by his family, no one person is to blame for his death. Rather, it seems to be a chain reaction of apathy that led to the 32-year-old's demise.
"I've never heard of anything like this where people just walk by a person lying in the street and nobody help," Gaines' aunt, Phyllis Nelson, told the Chicago Tribune. "I just don't understand it."
Gaines walked out of the 7-Eleven with a bag of chips, but almost immediately walked into a confrontation with three other men once outside. What initially appeared to be a late night argument turned violent seemingly out of nowhere. Gaines attempted to leave the confrontation, running from a heavier man wearing a hoodie, but the attacker punched Gaines in the head, causing him to collapse in the crosswalk.
The video shows a group of people surround him while two men rifle through his pockets before scurrying away. Gaines' relatives claim that his cellphone and credit card are missing.
While the family hopes that the assailant is captured and charged with murder, they feel that the 7-Eleven did not do enough to deescalate the situation. Additionally, the convenience store's security guard did nothing to help, even after Gaines was knocked unconscious.
Chris Hurley, the attorney representing the Gaines family, explained 7-Eleven's responsibility in the matter.
"The simple reason we're here is that a corporation that keeps its stores open 24 hours a day and invites the public in… that knows that it's targeted by criminals, needs to provide decent, competent, basic security, and that wasn't done here," he said.
"All they had to do was wave down cars and stand in front of him to keep him safe," Hurley added. "Or maybe (make) some effort to help him off the pavement. But just to stand there and watch him get run over? Their customer? It's not acceptable."
Someone believed to be a 7-Eleven employee called 911, but did not offer any further assistance such as pulling Gaines from the street or blocking traffic to prevent him from being hit by a car.
The family is also suing Chicago Taxi as well as the cab driver that struck Gaines. His family also hopes to find the man who assaulted him, but have been frustrated with how difficult it has been to find a man who is clearly visible on camera.
Gaines was raised in Georgia by his aunt, Phyllis Nelson, after his parents died. His cousin, Drexina Nelson, said, "We as people, as humans, we should care for one another," adding "Who leaves a person in the street for that long? That's devastating to me – the fact that he could have been saved. He could still be here with us."