US war on ISIS costs American taxpayers over $11 million daily – Pentagon report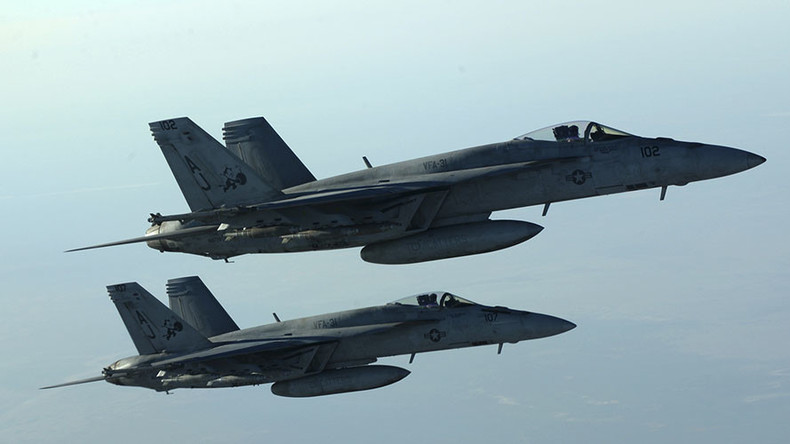 The Pentagon has spent $7 billion on its fight against Islamic State in both Syria and Iraq, since starting operations. Having conducted over 11,000 strikes, the Pentagon chief is mulling a new strategy with greater number of US troops and expenditures.
"As of March 31, 2016, the total cost of operations related to ISIL [also spelled as ISIS] since kinetic operations started on August 8, 2014, is $7 billion and the average daily cost is $11.6 million for 602 days of operations," the Department of Defense said in a recently released special report.
In nearly two years of its "Operation Inherent Resolve," US Central Command targeted 22,779 enemy positons, including oil infrastructures and strategic areas, according to the Pentagon statistics as of March 17.
As of April, the US-led coalition has conducted 7,794 strikes in Iraq and another 3,745 in Syria. Of a total 11,539 strikes, over 8,800 were flown by US aircraft, the Department's report stressed.
In the meantime, as the global fight against ISIS continues, Defense Secretary Ash Carter is planning "the next phase" of the war against the terrorist group, which would require even more of American troops and equipment, and hence, potentially more expenditures.
In just one year, the Pentagon's defense budget request has grown by $2.4 billion. The department is currently hoping for Congressional approval of $582.7 billion.
"First we're going to place additional advisers with the Iraqi security forces, now down to brigade and battalion headquarters levels. Second, we're going to make available attack helicopters in support of the [Iraqi forces] and ongoing efforts to envelop and then retake Mosul. It's an important capability," Ash Carter announced during a troop talk in Baghdad on April 18.
On top of what the US is already doing in the region, it is going to be sending more high-mobility artillery rocket systems, or HIMARS, to Iraq to help retake Mosul from Islamic state. There are also 217 new troops that are already "coming in" and "will be used in different ways."
"We're providing air power, command and control, other fire, training, sustainment [and] logistics," Carter said about Washington's ongoing fight.
READ MORE: ISIS bomb & chemical weapons 'research center' in Mosul barely targeted in US strikes

Briefing the press in Baghdad earlier this week, Army Lt. Gen. Sean MacFarland stressed that the 217 new advisers would be doing "largely what we've been doing all along, which is providing the kind of military advice and access to enablers that help our partners on the ground against the enemy – so access to coalition fires and logistics support, things of that nature."
The Pentagon is also allocating a $415 million package of financial assistance to the Peshmerga as to "one of the most effective fighting forces against ISIL," after the Kurdistan regional government requested economic assistance.
The US and its partners are steeling themselves for the upcoming fight recapture Mosul, which has been under ISIS control for nearly two years now, since June 2014.
According to MacFarland, the fight for Mosul will differ from operations that took place around the retaking of Ramadi, which is almost five times smaller than Mosul.
READ MORE: Why hasn't it worked? State Dept. dodges RT's questions on failed 'moderate' rebel training in Syria

Since starting its coalition and strikes to tackle ISIS, the US has been repeatedly criticized for having failed to effectively put down terrorists in the Middle East.
In September, the Pentagon admitted that its efforts to create a local fighting force against Islamic State were futile, saying that the rebels were "ill-prepared" for an enemy attack, with poor intelligence and no support from the local population.