US Army destroys drone with interceptor missile built for Israel's Iron Dome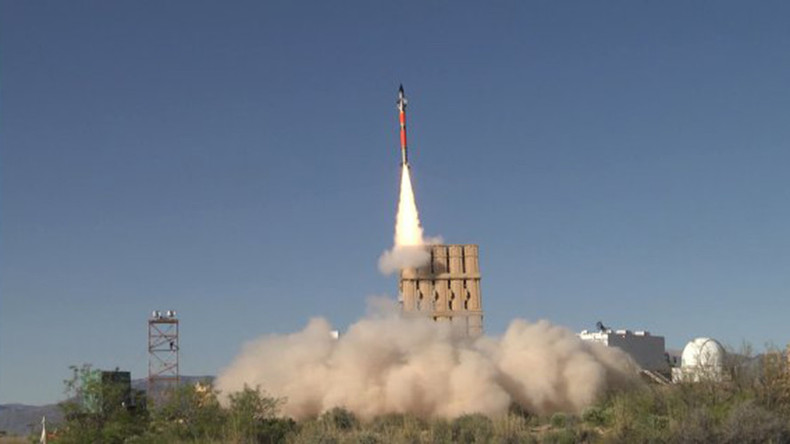 A missile used in Israel's Iron Dome defense program was successfully used by the US Army to shoot down a drone – marking the first time an interceptor built for a foreign nation has been successfully deployed on America's new missile launcher.
The test was conducted on April 14 at the latest launch platform of the White Sands Missile Range in New Mexico. A Tamir missile – currently part of the Iron Dome system that can shoot down rockets – was fired at an unmanned aircraft vehicle (UAV), which was destroyed upon impact, the US Army announced on Wednesday.
"This is the first time that a trial of the Iron Dome interceptor against a drone target was held on US soil," Rafael Advanced Defense Systems, an Israeli defense company which helped develop the interceptor, said to the Jerusalem Post.
The Tamir missile was fired from the Army's brand new Multi-Mission Launcher (MML), which was created to fire numerous kinds of interceptor missiles depending on what the situation calls for. The Tamir missile itself was originally designed to counter rockets, artillery, and mortars.
At the same time, the MML is part of a larger system called the Indirect Fire Protection Capability Increment 2-Intercept. This system was designed by the Army as a "mobile ground-based weapon system" that could take out UAVs, cruise missiles, rockets, artillery, and mortars.
Mounted onto a medium-size tactical vehicle, the MML rotates 360 degrees and can elevate from zero to 90 degrees, the Army said. Each of the MML's 15 tubes can hold either a large interceptor missile or multiple smaller ones.
READ MORE: 'Not aimed at Russia': State Dept. contradicts Pentagon on US missile defense expansion goals
Although the US doesn't deploy the Tamir missile in any of its current systems, the fact that it can be adapted to work with the Army's MML could mean that the military will consider its use in the future, Defense News reported.
According to the news outlet, construction of MML prototypes cost the Army $119 million, and the service is set to build another six at the Letterkenny Army Depot in Pennsylvania.