New York primary live results: Trump and Clinton win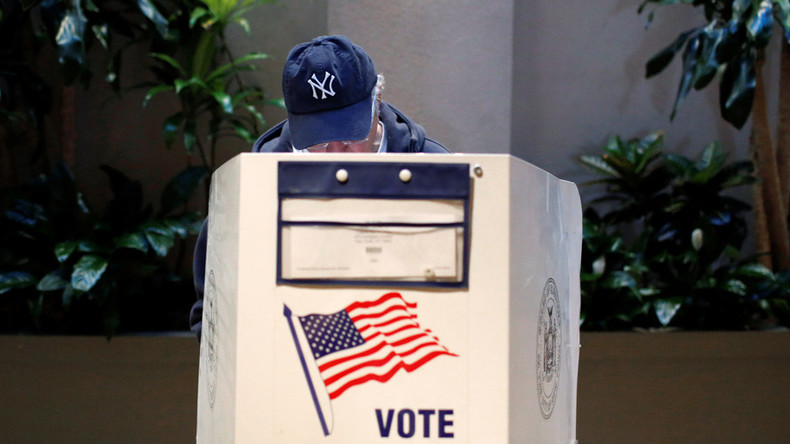 Billionaire businessman Donald Trump and former Secretary of State Hillary Clinton have shocked no one, winning their respective party's contests, while their challengers are fighting hard to keep up momentum for when five more states vote next week.
Republicans: With 1 percent of precincts reporting, Trump was nearly instantly declared the winner with 68.6 percent. Currently, 83 percent of precincts reporting show Trump with 60 percent of the vote, compared to Kasich with 25.2 percent and Cruz with 14.8 percent.
Delegate disbursements for the Republicans are not available yet, but Trump is guaranteed to pick up at least 14 delegates as he won more than 50 percent of the vote. Kasich will also win some, based on his above 20 percent showing.
"Based on what I'm seeing on television, Sen. Cruz is just about mathematically eliminated," Trump said in his victory speech at Trump Tower in New York City.
Democrats: With 38 percent of precincts reporting, Clinton was declared the winner with 60.5 percent of the vote. Currently, 83 percent of precincts reporting show Clinton with 57.5 percent, compared to Sanders with 42.5 percent.
Clinton walks out with 104 delegates and Sanders will get 85, according to Associated Press. Super delegate figures are not yet available.
In her victory speech from her campaign headquarters in New York City, Clinton, without mentioning his name, targeted Trump, saying, "America is great, and we can do great things if we do them together."
Previewing the general election campaign, stressing "powerful forces" would say and do anything to stop her, Clinton said, "It's not whether you get knocked down, it's whether you get back up," which the crowd answered with cheers of "Hillary! Hillary!"
RT's Ed Schultz commented that these results, considering New York's closed primary rules forbidding independents from voting, "It is gonna give the Sanders people the narrative that he needs to run as an independent."
Schultz acknowledged, "I don't think he's going to do it."
Check out the reactions of New Yorkers throughout the day's events:
More reactions of New Yorkers are below along with how the victors spent their day and where the runners-up are headed next:
Trump
"It was a great honor, really. Who would have thought?" Trump told reporters Tuesday morning after casting his ballot, according to Politico. "This was just a great honor and I think it's a great honor for New York. New York is a special place."
"My whole reason for doing this is to make America great again. We're a country with tremendous problems and we are going to make America great again," Trump said. "We have amazing support," Trump said, "but I'm really honored and putting in that vote today was really something terrific."
Clinton
"Guys, it's supposed to be a private ballot," Clinton told reporters crowding around her as she went to vote in Chappaqua, the city she and Bill moved to after leaving the White House in 2000, The New York Times reported.
"I love New York and this has been a joy during the last two weeks to be here, all over the state," she told reporters. "I hope everybody gets out to vote. I've had a great time going around the city in the last couple of days, meeting new people, seeing old people and I just urge everybody to go vote."
Sanders
Sen. Bernie Sanders (I-Vermont) told The New York Times he was "feeling very good," about the primary, though he resented the fact that many voters registered independent were closed out by the Democratic primary.
"If there is a large voter turnout out, despite the impediment of three million people not being able to participate, I think we are going to do just fine," Sanders said. "Today, three million people in the state of New York who are Independents have lost their right to vote in the Democratic and Republican primaries," adding, "That's wrong. You're paying for this election. It's administered by the state. You have a right to vote. That's a very unfortunate thing which I hope will change."
The Sanders campaign's next stop is in Pennsylvania, which votes next Tuesday.
Cruz
Rather than campaigning in New York, Sen. Ted Cruz (Texas) spent Monday in Maryland, which votes Tuesday along with Connecticut, Delaware, Pennsylvania and Rhode Island.
"The nation is looking to Maryland to decide, do we nominate Donald Trump? Or do we unite behind the Cruz campaign?" he said, according to Fox News Latino.
That wasn't a question he could have asked in New York, where voters it seemed, for the most part, hardly considered his candidacy following his knock on "New York values" in an attack on Trump in previous debates.
Kasich
Ohio Gov. John Kasich also campaigned outside of New York on Tuesday, traveling to Pennsylvania where he mockingly, in the voice of Trump, said, "Everyone in Pittsburgh is going to be a billionaire," and "I'm not going to tell you how I'll do it, I'm just telling you. And by the way, everyone here is going to own their own hotel," the Columbus Dispatch reported.