Obama paid just 18% tax and got $22k refund as IRS deadline looms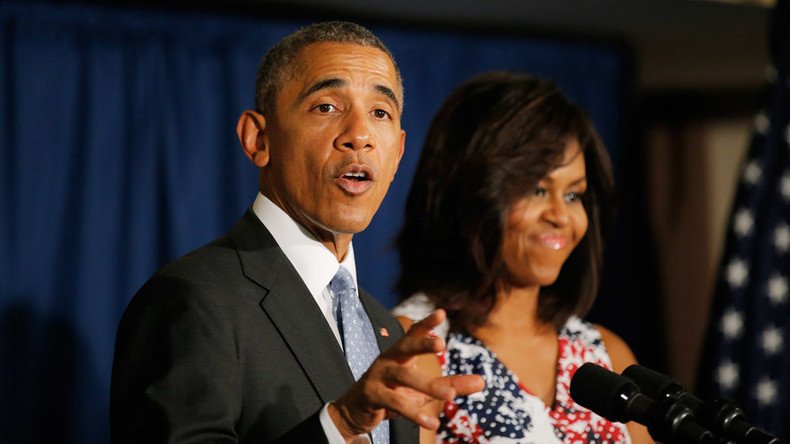 The dreaded day is nearly upon millions of Americans to file their taxes. On the eve of the April 18 deadline, the taxpayer-in-chief's return is under scrutiny after it was released Friday.
US President Barack Obama and his spouse Michelle had an adjusted gross income of $436,065, nearly 9 percent less than the year before, which could mean they are no longer part of "The One Percent".
The bar in 2013 was $428,713, according to the US census, but the 2015 level won't be known for a number of months.
The White House published the first couple's tax return as an inspiration to those who prefer to wait until the 11th hour, or pay the penalty for being late.
Their "Form 1040" shows they paid $81,472 in federal taxes for the year, entitling them to a refund of $22,859 and an effective tax rate of just 18.8 percent. This is down from 19.6 percent in 2014.
While the Obama administration has pushed for a higher tax rate on the super rich, it's still less than half the 94 percent rate during 1944-45.
The Obamas paid $16,017 in taxes to the state of Illinois, which is now run by a billionaire Republican governor.
Most of their income came from the president's salary plus $60,745 in book royalties, an amount which has been waning in recent years.
A total of 14.7 percent of their adjusted gross income was donated to charity, which equates to $64,066, down from $70,712 the previous year.
The largest of these charitable donations was $9,066 for the Maryland-based Fisher House Foundation, which provides lodging to veterans and military families receiving treatment at military medical centers.
A donation of $1,500 was also made to the National Coalition for Homeless Veterans, meaning the Obamas donated over $10,500 to charities that could have been fully funded through federal tax revenue if upper income rates were higher.
Obama said in November that he was "not satisfied" with the progress his administration has made in dealing with the nation's 19.3 million veterans, particularly in healthcare where there is a massive backlog in disability and pension claims.
READ MORE: 35% of backlogged VA healthcare applicants died waiting for benefit approval
The Obamas' second largest donation was $5,000 to the private Sidwell Friends School attended by their daughters Malia and Sasha - and that's not counting the estimated $70,000-plus per year they spend on their tuition.
Obama has often been criticized by education advocates for the hypocrisy of sending his children to private schools as the executive head of the Department of Education.
The Beau Biden Foundation, established in honor of Vice President Joe Biden's son who died last year, also received a $5,000 donation from the Obamas.
Treasury notes amounting to $994,941 were cashed in by the Obamas, possibly in anticipation of his upcoming unemployment, although the White House did not comment on why they were sold.
You can share this story on social media: