Bipartisan bill in US Senate to restrict US arms sales to Saudi Arabia introduced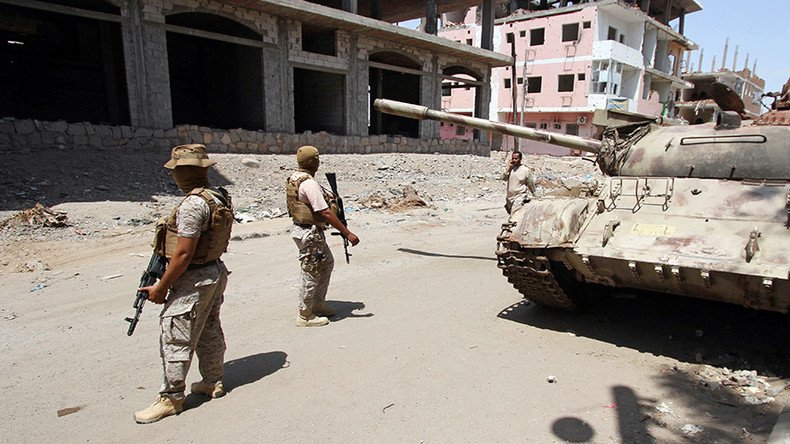 Senators from both sides of the aisle are proposing a restriction on sales or transfers of US-made air-to-ground weapons to Saudi Arabia. The Saudis' bombing of Yemen, they say, are not in the US national interest.
US Senators Chris Murphy (D-Connecticut) and Rand Paul (R-Kentucky) introduced their joint resolution on Wednesday, a week after Human Rights Watch (HRW) claimed that US-supplied bombs were used by the Saudi Arabia-led coalition in one of its deadliest attacks yet in Yemen.
"Saudi Arabia is an important partner, but we must acknowledge when a friend's actions aren't in our national interest. I have yet to see evidence that the civil war we're supplying and supporting in Yemen advances our national security," Sen. Murphy said in a statement.
The Murphy-Paul proposal focuses on an arms sales approval process stipulated by the Arms Export Control Act. Particularly, it adds another layer of scrutiny on the way to sealing a deal with Saudi Arabia, one of America's largest arms recipients.
If the measure passes, it would require a US president to certify that its Middle Eastern ally is indeed performing actions aimed at fighting terrorists and protecting civilians.
"The more it drags on, the clearer it becomes that our military involvement on behalf of the Saudi-led coalition is prolonging human suffering in Yemen and aiding the very groups that are intent on attacking us," Murphy argued, warning that this is fueling anti-American sentiment among Yemenis.
"This will come back to haunt us," he added in his written statement.
The Connecticut senator further commented that the Saudi fight against Islamic State (IS, formerly ISIS/ISIL) and extremist groups should be its military priority, and not be distracted by its "proxy wars with Iran."
READ MORE: 'Tyrannical aggression': 1,000s protest Saudi-led airstrikes in Yemen 1 year on

Senator Paul, Murphy's sole supporter so far, agrees that the sale of US-made air-to-ground munitions to the Saudis should be halted until Congress conducts "proper oversight."

"For too long the Obama administration has not been holding countries receiving U.S. military munitions accountable in the Middle East," Paul said in a statement. "It is no secret that Saudi Arabia's record on strictly targeting combatants and legitimate military targets in Yemen has been questionable."
The Murphy-Paul resolution specifically highlights four conditions that the President's certification must attest.
The White House would have to make sure that Saudi Arabia is not providing funding, material support, or lethal aid to foreign terrorist groups and establish that the Saudis are minimizing risks to civilian populated areas while also ensuring humanitarian assistance. The president would also have to certify that Saudi military actions are aimed at terrorist groups, "including Al-Qaeda in the Arabian Peninsula and affiliates of the Islamic State of Iraq and the Levant as part of its military operations in Yemen."
However, there is little chance that the bipartisan proposal will garner much support in Congress, especially given the decades-long alliance between Washington and Riyadh. The Senate hasn't taken a vote to prevent arms sales to Saudi Arabia for three decades, The Washington Post reported.
"There's very little likelihood that this will pass," Chris Hedges, author and former Middle East bureau chief for The New York Times, told RT. "The Saudis have an extensive lobbying effort in Washington and not only do they have high-powered lobbying firms behind them, but they have the defense contractors themselves, who have profited, and continue to profit, off of weapons sales to Saudi Arabia."
In November 2015, the US State Department approved the sale of $1.29 billion worth of smart bombs to Saudi Arabia as a part of its good faith measure to help Riyadh replenish supplies it used in battles against insurgents in Yemen and airstrikes against Islamic State in Syria.
"Yemen has become a horror show," Hedges said. "Much of the unrest and violence that we've seen in the Islamic State in Syria and Iraq is directly traceable to Saudi and Qatari intervention. So they've become a deeply destabilizing force throughout the region."
According to US estimates, about 6,300 people, over a half of them civilians, have been killed since March 2015, when Saudi Arabia launched its anti-Houthi campaign. Most of the people killed in Yemen died in Saudi-led coalition airstrikes.
On April 7, HRW published its report in which it claimed that the Saudi Arabian Air Force dropped two US-made bombs on a crowded marketplace in Yemen on March 15.
Since the beginning of the airstrikes, at least 12 of them have struck marketplaces throughout Yemen. HRW has called on Washington to stop selling weapons to Saudi Arabia until Riyadh ends unlawful airstrikes.
You can share this story on social media: