Sanders slams 'immoral' capitalist wealth, fossil fuel barons during Vatican visit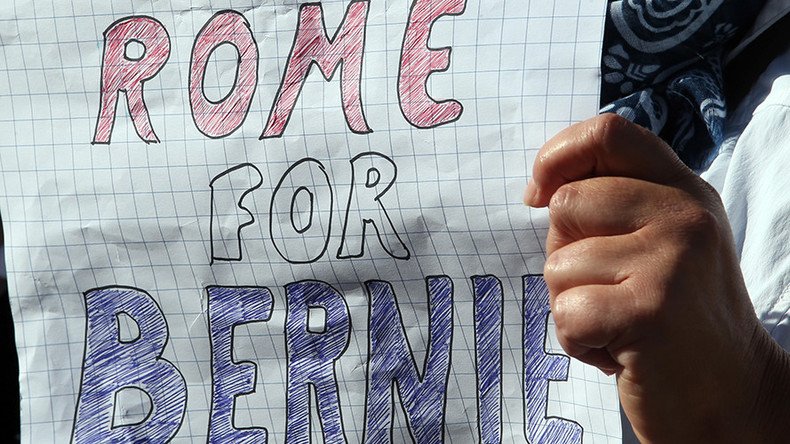 Bernie Sanders may have the small matter of a presidential campaign to run, but the self-described democratic socialist still took time out to head to the Vatican City, where he struck out at the "immoral wealth" of the world's 1 percenters.
The Democratic presidential hopeful and senator from Vermont attended the Urgency of a Moral Economy conference on Friday to reflect on Pope John Paul II's writings on social change.
The Pontiff's 1991 Centesimus Annus ‒ a reflection of society after the fall of Communism ‒ was seen as radical at the time.
Speaking to a crowd of reporters inside the Holy See, Sanders launched a scathing broadside at capitalist failings in the US and abroad.
"In my country and around the world, we are seeing a handful of very, very wealthy people become wealthier while most people are becoming poorer," he said. "In fact the top 1 percent of people on this planet now own more wealth than the bottom 99 percent. That to me is unacceptable, it is unsustainable, it is immoral and together we have got to change that."
"We have got to ingrain moral principles into our economy and there is no area where that is clearer in than in the area of climate change. The greed of the fossil fuel industry is literally destroying our planet," Sanders added.
In a speech to delegates at the Pontifical Academy of Social Sciences, Sanders suggested the 1991 words of Pope John Paul II about workers becoming "cogs of the financial system" and the "quest for profits" dominating society had not been heeded.
"Twenty-five years after Centesimus Annus, speculation, illicit financial flows, environmental destruction, and the weakening of the rights of workers is far more severe than it was a quarter century ago," Sanders said.
READ MORE: Sanders now leading Clinton in national poll ahead of Vatican visit
It would appear that Pope Francis and Sanders share a similar view when it comes to the environment.
In his address to the White House in September last year, the Pontiff said that "climate change is a problem which can no longer be left to a future generation. We still have time to make the changes needed."
You can share this story on social media: