San Francisco building officials force man to move out of his wooden box, deeming it illegal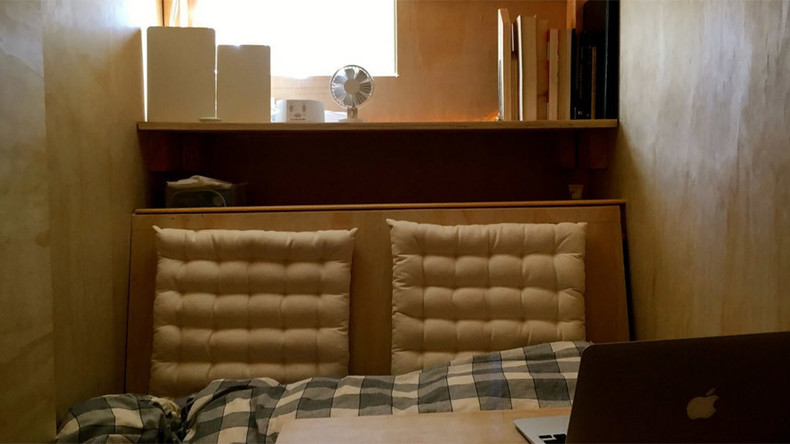 A man who made a wooden box his home has been forced to move out after San Francisco building officials deemed the dwelling illegal.
Peter Berkowitz, an illustrator, made headlines last month with his story of living in a box paying $400 a month.
The 25-year-old came up with the solution as an alternative to paying the city's sky-high rents, building the 32-square-foot pod for $1,300 in his friend's living room.
"It fits all my needs where I have a private, sound-proof place where I can keep my belongings," Berkowitz said in an interview with SFGate. "I'm saving thousands of dollars a year. It's a solution that works for me. I don't want to spend so much money on rent."
After he shared his story Berkowitz was approached by others wishing to replicate his living arrangements and announced to Hoodline plans to produce and sell these "pods."
That ambition met a hasty end, however, thanks to the city's Department of Building Inspection. Chief Housing Inspector Rosemary Bosque told Hoodline that "pods are illegal and a violation of housing, building, and fire safety codes."
"He would have to completely open it up or look at something different, such as a bed with a frame, with curtains, something that was open to the room. This would be the case for anywhere in the country with respect to building and inhabitability codes," Bosque said.
"It's not just a matter of high rents and a matter of how people are coping with rents in San Francisco; there are fire safety realities," said the department's legislative and public affairs manager William Strawn.
Berkowitz has now left his plywood home, according to Hoodline, and faces finding alternative accommodation in a city where the median rent has reached $4,400 per month, according to data from Zillow.com..
READ MORE:Not such bum luck: Homeless man to receive $100k for police tip