Bernie Sanders wins Time reader poll of 100 most influential people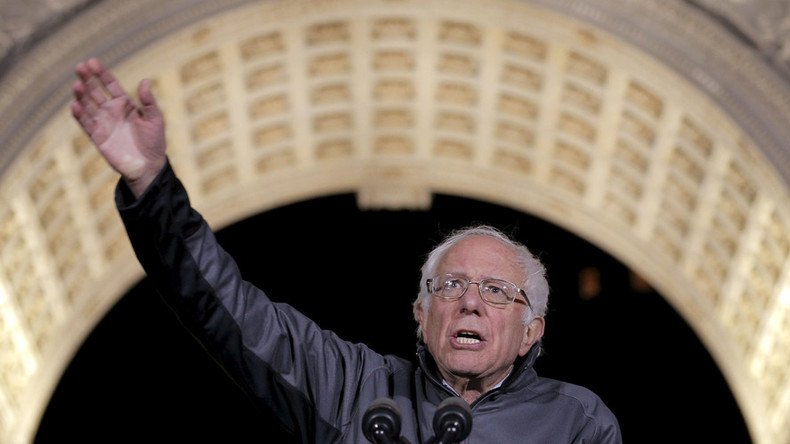 Democratic presidential contender Bernie Sanders has won a Time magazine reader poll of the world's 100 most influential people. He received more than three times as many votes as his rival Hillary Clinton.
The Vermont senator received 3.3 percent of the poll's votes, and was followed by South Korean boy band Big Bang who landed 2.9 percent, and Burmese activist Aung Suu Kyi who received 2.9 percent. He left many world leaders trailing, including President Barack Obama who gained 2 percent.
Hillary Clinton, the establishment pick for the Democratic nomination, finished with only 1 percent of the vote.
Republicans Donald Trump, John Kasich and Ted Cruz were also present in the poll, but only garnered 0.6, 0.4 and 0.3 percent of the votes, respectively.
Time suggested that Sanders' commanding lead in the poll was due to the fact that he has "long benefited from digitally active supporters."
"While he badly lags Clinton in winning the delegates needed to capture the presidential nomination, his populist rhetoric and emphasis on income inequality has allowed him to sustain a stronger-than-expected challenge to Clinton while also helping frame the debate in the Democratic contest," the magazine added.
The poll's purpose is to help Time's editors choose which public figures to add to its annual Time 100 list, but there's no guarantee that their choices will correspond with the readers' picks. Sanders also won the 2015 Time poll for Person of the Year, but German Chancellor Angela Merkel ultimately landed the title.
You can share this story on social media: