Pentagon recites 'Russian aggression' to justify missile defense expansion budget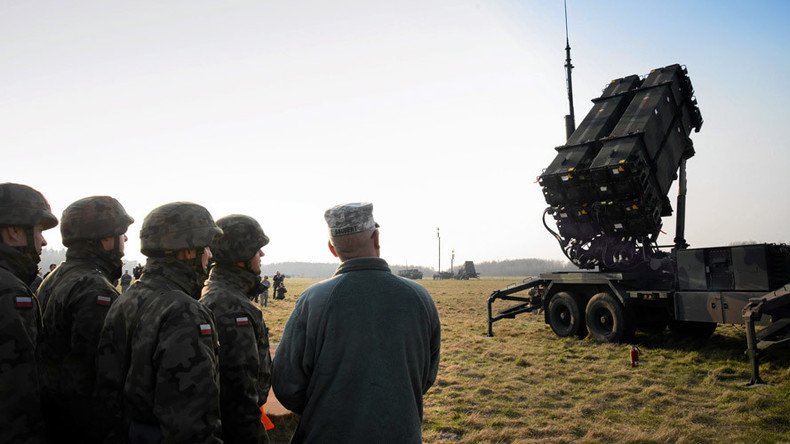 The Pentagon is mulling a new strategy to protect the US from what it obsessively calls Russian military aggression. Citing Moscow's alleged violations of a nuclear treaty, the DoD's seeking to upgrade its air and cruise missile defense capabilities.
"Russia is making significant investments in cruise missiles, including a cruise missile that violates the Intermediate-Range Nuclear Forces (INF) Treaty, which eliminated an entire class of US and Russian missiles nearly three decades ago," Principal Deputy under Secretary of Defense for Policy Brian P. McKeon told the Senate Armed Services Subcommittee as he defended the Missile Defense Agency's budget request for the coming fiscal year.
On the list of America's "evolving challenges," McKeon put Russia together with China and terrorism, adding that actions by Moscow and Beijing signal "a return to great power competition."
The US is also seeking to "modernize" defense capability in order to remain ahead of a growing ballistic missile threat, which according to McKeon primarily consists of North Korea, Iran and Syria.
All of these perceived threats are shaping the Pentagon's agenda, which largely depends on the requested $7.5 billion budget.
Trying to win the Committee's approval of the 2017 funding request, McKeon said that the Department of Defense (DoD) plans to focus on "developing and implementing a strategy to address Russian military actions."
The blueprint would include "modifying and expanding air defense systems to deny Russia offensive capabilities" as well as "investing in the technologies that are most relevant to Russia's provocation."
Washington would also partner with those of its allies that are "most concerned with Russian behavior" to put "increased emphasis" on improving "collective capability" in order to counter complex cruise missile threats.
"We are also encouraging our allies and partners to acquire missile defense capabilities, and to strengthen operational missile defense cooperation," McKeon said.
"The United States will continue to encourage its NATO Allies to do more to cooperate and invest in missile defenses that will contribute to Alliance security," he later added.
Washington and Moscow have been trading accusations of violations from the 1987 INF Treaty, which McKeon accused Russia of violating for years. In June 2015, Deputy Defense Minister Anatoly Antonov suggested that the US was "ramping up the issue of 'Russian violations' to justify" its own plans to deploy missiles in Europe.
Earlier, for example, the US claimed that Russia had secretly developed a nuclear-capable cruise missile for the Iskander launcher with a range of over 500 km.
Moscow, for its part, accused the US of deploying intermediate-range missiles in the form of target missiles for testing of its anti-ballistic missile systems. Russia also complained that the US is deploying missile launchers in Romania as part of its controversial ABM shield in Europe.
In his March 30 op-ed in Washington Post, President Barack Obama casually accused Russia of violating the treaty, at the same time calling on Moscow to comply with the obligations as well as engage in nuclear stockpiles reduction negotiations with Washington.
Responding to Obama, Dmitry Peskov, press secretary for the Russian president, dismissed the accusations as "unfounded."
After he mentioned that Russia also had a number of claims concerning the US adherence to the INF treaty, Peskov refused to elaborate further, saying that he was unfit to discuss such issues by publicly trading accusations.
You can share this story on social media: