Major pesticide brand dropping bee-killing chemical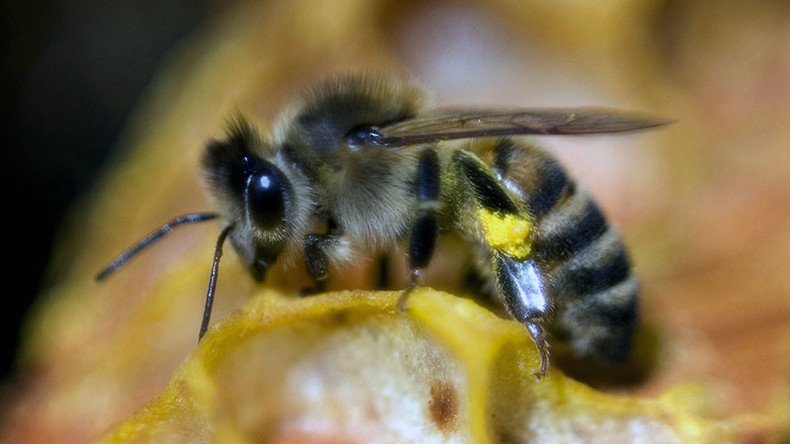 Ortho, a top US manufacturer of lawn and garden pesticides, will phase out products containing the neonicotinoid class of chemicals, the use of which has been linked to a massive decline in honeybee population.
Ortho, a division of Scotts Miracle-Gro Company, announced Tuesday that it will cease the use of neonicotinoid ("neonic") ingredients imidacloprid, clothianidin and dinotefuran by 2017, while phasing out neonics in eight products that are used to kill garden pests by the year 2021.
Tim Martin, Ortho's vice president and general manager, said the company will also begin a "multi-year partnership" with pollinator advocacy organizations to "to promote pollinator habitat" and "homeowner education" initiatives to encourage "responsible use of pesticides where pollinators can be found."
"This decision comes after careful consideration regarding the range of possible threats to honey bees and other pollinators," Martin said in a statement. "While agencies in the United States are still evaluating the overall impact of neonics on pollinator populations, it's time for Ortho to move on."
Martin added that the change may require gardeners to apply Ortho products more frequently than is currently recommended, and that the cost of products will not change significantly.
Neonics attack the central nervous systems of insects, causing tremors, paralysis, and death. The insecticide is absorbed into treated plants and distributed in their vascular systems, rendering various parts – including the roots, leaves, stem, flowers, nectar, pollen and guttation fluid – toxic to insects.
Neonics like imidacloprid were developed in the 1990s to boost yields of staple crops such as corn, but they are also widely used on annual and perennial plants in lawns and gardens. Researchers believe the neonics are causing some kind of biological reaction in bees that has been blamed for Colony Collapse Disorder (CCD), the disease killing off honeybees and threatening pollination of the world's crops.
While regulatory agencies in the US are still assessing the impact of neonics on bee populations, the US Environmental Protection Agency (EPA) has said imidacloprid can be a threat to various bees and other pollinators.
Groups wary of pesticide use refer to current research blaming the cause of CCD on two major types of neonics, including imidacloprid. Another study found that bees exposed to "field-realistic" doses of neonics gather less than half the pollen that they normally do, causing starvation among their young.
Environmentalists are calling on the EPA to join the European Commission in adopting a moratorium on such insecticides. In 2013, The EC instituted a two-year moratorium on the use of three neonic pesticides, including imidacloprid.
In 2015, the EPA proposed a prohibition on the use of pesticides that are toxic to bees – including neonics – when crops are in bloom, and temporarily halted the approval of new outdoor neonic uses until new bee data is submitted and pollinator risk assessments are complete.
In March, the US Fish and Wildlife Service said it will consider protecting two species of wild bumblebees under the Endangered Species Act.
Meanwhile, major neonic producers like Bayer CropScience and Syngenta have said that claims of neonic effects on bee populations were exaggerated.
Honeybees pollinate more than 100 US crops that are worth more than $200 billion a year. CCD has killed tens of millions of honeybees in the US, with annual death rates of about 30 percent. Since 2006, about 10 million beehives at an average value of $200 each have been lost, according to a 2013 US Department of Agriculture Study. CCD is threatening the existence of those crops.
In May of 2015, the Obama administration announced a strategy to protect bee habitats. The National Strategy to Promote the Health of Honey Bees and Other Pollinators aims to reduce honeybee colony losses during winter to no more than 15 percent within a decade. The strategy also states that the government and private entities will restore or enhance 7 million acres of land for pollinators over the next five years.
You can share this story on social media: