300+ arrested at 'Democracy Spring' sit-in at US Capitol (VIDEO)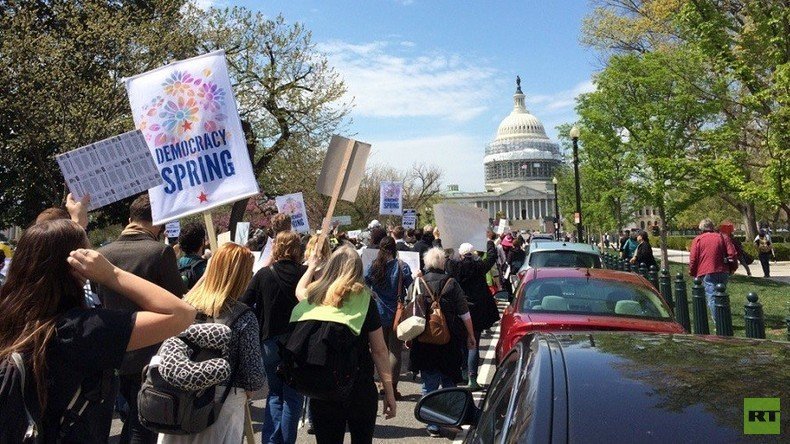 Over 300 of "Democracy Spring" protesters have been arrested on the steps of the US Capitol. Thousands of activists arrived in Washington DC, after a 10-day, 140-mile (225km) march from Philadelphia, to protest the role of money in politics.
Prominent activists are among the hundreds who have been arrested so far.
The protest appears to have broken the record for the number of people arrested at the US Capitol.
Police announced they "ran out of space" for arrested activists, Ruptly's Paulina Leonovich reported.
At least 10 buses have been used to transport arrestees from the sit-in at the Capitol.
"People are fed up with the system, they are fed up with the corruption, and we want free and fair elections," Cenk Uygur, host of the TV show Young Turks and one of the participants in the protest, told RT. "This is our core American right."
"The fight begins today. It doesn't mean we win today. But in the end, we always win," Uygur said. "Progressives have never lost. We won in civil rights, we won in women's rights, we won in gay rights, and we're going to win in getting our democracy back."
With the goal "to claim the democracy we were promised", various advocacy groups headed up by Ralph Nader's Public Citizen and 99Rise.org, plan to hold a "mass sit-in" over the next eight days in the hope of persuading Congress to tackle "corruption of big money in politics and ensure free and fair elections", according to campaign director Kai Newkirk.
In addition to putting their bodies on the line, activists will use technology to hold "call-in days", submit online petitions, and organize "Twitter storms" to raise awareness of their campaign, which they have described as "one of the largest civil disobedience actions in a generation."
READ MORE: Democracy Spring: Mass civil disobedience, teach-ins, and rallies heading to DC

After arriving in DC on Sunday, organizers held civil disobedience training for activists ahead of Monday's advance on the Capitol, with attendance higher than expected.
Some attendees are understood to have been turned away due to the large number of people and asked to return for Monday's training classes instead, which have also attracted large crowds.
"We hope that it will be the beginning of the end of the corruption of our democracy," Newkirk told RT, stressing their main pledge is to make Congress pass "four bills that we're pushing for," referring to the Government by the People Act, Fair Elections Now Act, the Voting Rights Advancement Act of 2015 & Voter Empowerment Act of 2015, and the Democracy for All Amendment.
While the first day of the sit-in includes everyone, organizers have drawn up a schedule of events with each day focusing on a different theme and demographic, including elders, young folks, students, and activists from racial justice and labor solidarity movements.
The sit-in concludes April 16 with Climate Justice Day - followed by a "Democracy Awakening" through April 18, a series of events closely aligned with spring that will be "as integrated and complementary as possible", says the campaign's website.
During the Democracy Spring march from Philadelphia to DC, activists could be heard shouting pro-democracy slogans such as "Money out, voters in. I believe that we will win" and "From Philly to DC, marching for democracy," among many others.
"I'm marching because slavery still exists in this country for a system that we called mass incarceration," one of the anti-establishment activists told RT in an interview.
Attendees are being asked and trained to be non-violent protesters with guidelines that include no destruction or damage of property, "no weapons or any means of physical defense, including shields," and no masks or other ways to conceal identity.
Follow RT's Caleb Maupin (@calebmaupin), who is at the demonstrations.
You can share this story on social media: