Navy SEAL who 'killed' bin Laden arrested for DUI in Montana, hours after trolling Sanders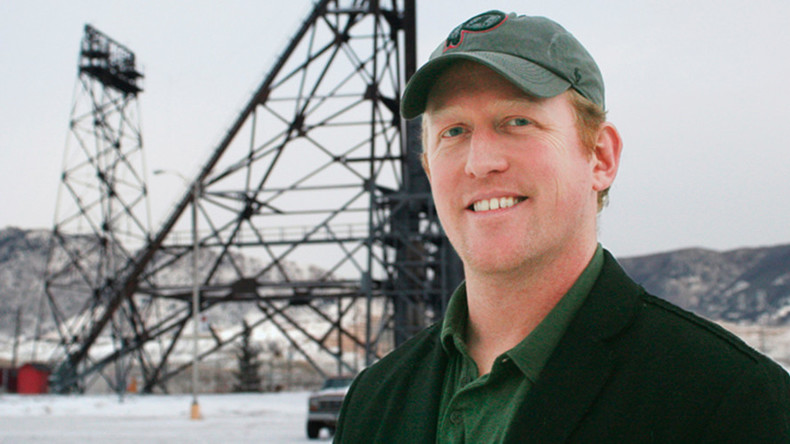 Robert O'Neill, the Navy SEAL who claims he killed Osama bin Laden, was arrested Friday for 'driving while intoxicated' outside a convenience store in the US state of Montana.
Four sheriff's deputies from Butte-Silver Bow County were called to the scene after customers reported a man sleeping in a running car at around 2.30am.
O'Neill, who previously said he shot the Al-Qaeda leader three times in the face during his 2011 assassination in Pakistan, was found intoxicated and confused, according to undersheriff George Skuletich, but he later claimed he wasn't drinking.
He also told deputies he had just flown from overseas, first saying Europe and then changing it to Central America, according to the Montana Standard.
After failing an initial field sobriety test, he refused to partake in any others, including offering a blood sample to detect the levels of alcohol or any other illicit substances.
very upset with how the media is handling the arrest of Rob O'Neill, a former US SeAL who was sleeping in his car and was given a DUI

— brody (@brodster52) April 9, 2016
O'Neill was released after he posted a $685 bail and has since denied being under the influence in a statement released through a public relations agency.
"The facts are that I took a prescribed sleep aid to help with long-standing severe insomnia," he said. "While the timing was bad and I highly regret this decision, I am innocent of the charge and have entered a plea of not guilty."
The 39-year-old Butte native went from "hero to zero" in 2014 when he revealed details about his role in Operation Neptune Spear, supposedly violating Navy SEAL ethos.
"A critical tenant of our ethos is 'I do not advertise the nature of my work, nor seek recognition for my actions.' Our ethos is a life-long commitment and obligation, both in and out of the service. Violators of our ethos are neither teammates in good standing, nor teammates who represent Naval Special Warfare," wrote Rear Admiral Brian Losey and Force Master Chief Michael Magaraci in an open letter.
READ MORE:​ US Navy investigates SEAL who allegedly killed Bin Laden
O'Neill and his fellow SEAL Matt Bissonnette, who wrote two books about his time in the special operations force, are both under investigation by the Naval Criminal Investigative Service for alleged revelations of classified materials.
While the Pentagon has previously said it isn't clear who fired the fatal shot, and there is no available evidence of the murder actually taking place, O'Neill has made a number of speeches attesting to the fact and was the subject of the documentary, 'The Man Who Killed Osama Bin Laden'.
He described hearing bin Laden's last breath and said the perpetrator of the September 11, 2001 attacks was hiding behind his wife when he shot him in the face, but there have been a number of differing reports as to what happened.
O'Neill, who describes himself in his Twitter bio as a "Fox News contributor, LAIspeakers Professional Speaker, SEAL Team 6," trolled Democratic presidential candidate Bernie Sanders in a tweet posted just hours before his arrest.
Sanders says American jobs have moved over seas by greedy Capitalists avoiding high taxes.He plans 90% taxes. That'll surely bring em back!!

— Robert J. O'Neill (@mchooyah) April 7, 2016
He insists Americans have a right to know more about the raid.
Guns don't kill people. Daddies with pretty little girls do.

— Robert J. O'Neill (@mchooyah) April 5, 2016
Investigative reporter Seymour Hersh described that raid as "staged" after "a former senior Pakistani intelligence officer approached Jonathan Bank, then the CIA's station chief at the US embassy in Islamabad… [and] offered to tell the CIA where to find bin Laden in return for the reward that Washington had offered in 2001."
Robert O'Neill's name was featured on an Islamic State (IS, formerly ISIS/ISIL) document that was shared on social media in October, along with his home address and a call to kill the ex-Navy SEAL.
One alleged jihadist criticized O'Neill for "traveling around America putting on seminars boasting about killing Sheikh Osama."
SEAL Team 6 has been accused of evolving into a "global manhunting machine," allegedly killing civilians with little oversight, according to a New York Times report.