ReachNow: BMW rolls out its new car-sharing venture in Seattle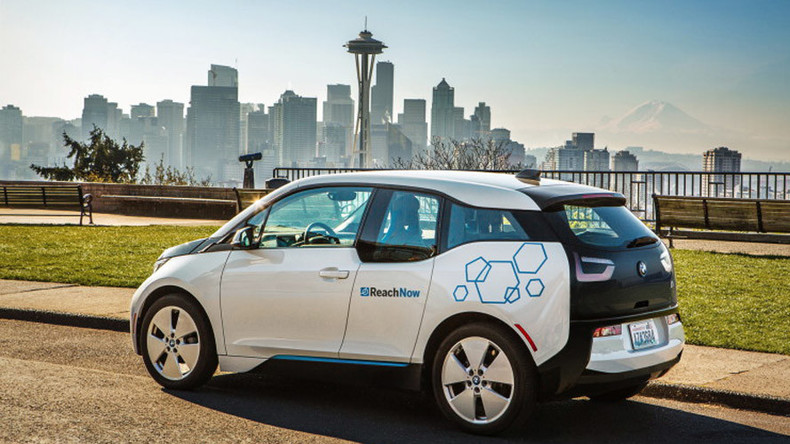 BMW has thrown down the gauntlet before the car-sharing industry, rolling out some 370 premium class wheels in the streets of Seattle. Unlike Uber or Lyft, ReachNow provides customers with the ability to drive themselves, and more cities are in the works.
The models currently available on ReachNow, BMW's nascent car-sharing service, include the i3, the 3 Series and the MINI Cooper, all at the push of a button.
"ReachNow is designed to provide drivers with an experience that is as convenient as owning a car," the company said in a press release.
Just like, for example, Car2Go, a similar app-based car-sharing service, ReachNow is operated via a mobile application. Its developers claim their approval and registration processes will not take more than two minutes to complete. After that, users only need to select and book the nearest available car or simply find BMW's vehicle on the street.
Returning a car should be just as easy. They can be dropped off at any legal parking space, including those that are free or metered or within residential permit zones.
It might not be so cheap to own a BMW, but to drive one with ReachNow starts at $0.49 per minute. The app automatically caps pricing at three different tiers, starting with $50 for up to 3 hours, $80 for up to 12 hours, and $110 for up to 24 hours.
ReachNow soon plans to expand beyond the testing grounds of Seattle's roads and include the Seattle-Tacoma International Airport before moving on to other cities. It plans to open in three additional cities later this year and then expand to 10 North American cities later on. In the meantime, BMW's service has received a warm welcome from Mayor Ed Murray.
"Seattle residents are demanding more transportation options, and car sharing is a convenient way to avoid the expense of owning your own vehicle," the mayor said, endorsing ReachNow as "another great option to get around Seattle."
BMW Group Board Member Peter Schwarzenbauer did not disclose which cities they plan to enter next.
"With this service, we are building up on Drive Now, our extremely successful European business model, and bringing it up to a new level in the US Seattle is an innovative, internationally-oriented city which makes it the perfect location to launch these services," Schwarzenbauer said in a statement.
ReachNow certainly is bringing competition to companies like Car2Go, Zipcar, or Uber, even though the latter offers a slightly different service.