Kerry to Iran: Help us end wars in Yemen, Syria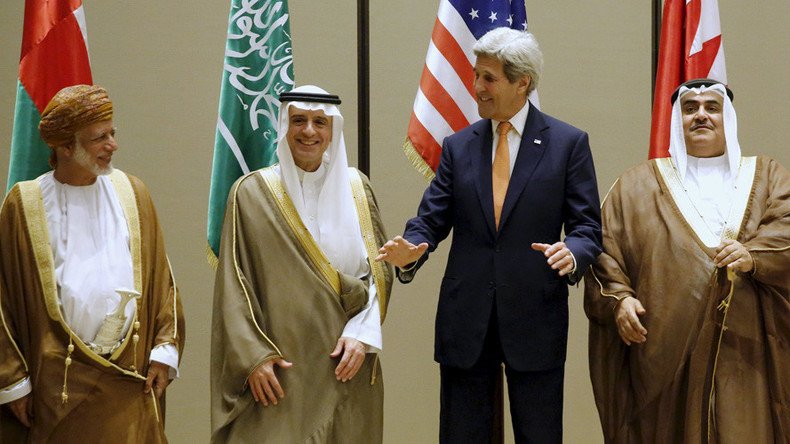 US Secretary of State John Kerry has asked Iran to help end the bloody conflicts in Syria and Yemen, while urging Tehran to make peace with its Arab neighbors.
At a press conference in Bahrain on Thursday, Kerry urged Tehran to "help us end the war in Yemen... help us end the war in Syria, not intensify, and help us to be able to change the dynamics of this region."
He added that Iran should "prove to the world that it wants to be a constructive member of the international community and contribute to peace and stability," according to AFP.
Kerry is in Bahrain for a meeting with foreign ministers of the Gulf Cooperation Council (GCC), which consists of Bahrain, Kuwait, Oman, Qatar, Saudi Arabia, and the United Arab Emirates. The group is scheduled to hold a summit on April 21 in Saudi Arabia, with President Barack Obama in attendance.
The US is pushing for greater GCC involvement in the struggle against Islamic State (IS, formerly ISIS/ISIL) in Iraq and Syria. However, Washington's Gulf Arab allies are anxious about what they see as Iranian encroachment, blaming Tehran for backing the Syrian government, the Hezbollah militia in Lebanon, and the Houthi rebels in Yemen.
The GCC has backed a multitude of rebel groups seeking to overthrow President Bashar Assad in Syria since 2011, with Saudi Arabia overseeing the establishment of the High Negotiation Committee (HNC) in January of this year. Some of the rebel groups have received money and weapons from the CIA and the Pentagon as well.
In March of 2015, a Saudi-led coalition invaded Yemen, seeking to restore the government of President Abed Rabbo Mansour Hadi, which was overthrown by the Houthis. The bloody conflict has devastated the country, but the coalition forces have been fought to a stalemate despite having superior numbers, weaponry, and air power.
Under the terms of the deal reached with the 'P5+1' group last year, Iran has agreed to severely curtail its nuclear program in exchange for sanctions relief. Kerry has praised Tehran's participation in the international effort to mediate the end to the Syrian civil war, which resulted in February's ceasefire.
"Our hope is that the aspirations expressed by some people in Iran to be able to build a better relationship in the region and through the world is in fact the direction that Iran would like to go in," Kerry said. "Clearly there is a difference of opinion within Iran itself and they're going to have to decide."
Kerry's overtures to Iran have drawn criticism from hard-liners in Washington, with some Republican lawmakers suggesting his personal friendship with Iranian Foreign Minister Javad Zarif could be leading the State Department to exercise undue "flexibility" in implementing the nuclear deal.
You can share this story on social media: