Congressional vaping bad boy accused of spending $1,300 in campaign funds on video games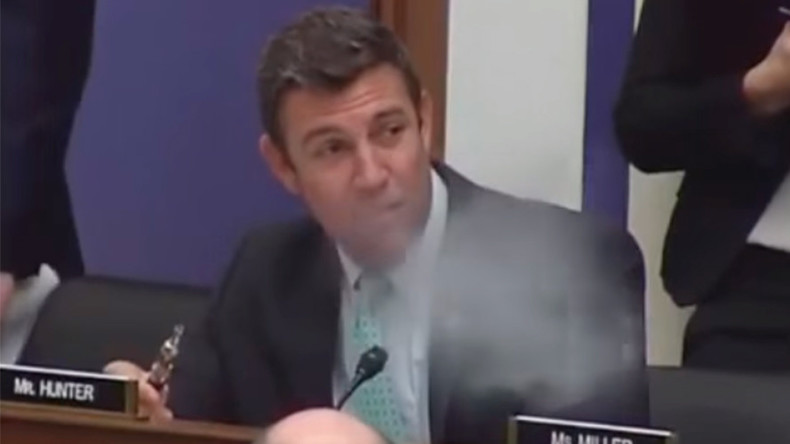 California Representative Duncan Hunter, who made waves by smoking a vape pen at a congressional hearing, is now in hot water for allegedly spending $1,300 in campaign contributions on Steam computer games.
Hunter, who previously garnered internet fame by smoking an e-cigarette during a congressional hearing on e-cigarettes, is being questioned by the Federal Election Commission (FEC) for listing $1,302 spent on Steam service games on his 2015 year-end campaign finance disclosure as "personal expense – to be paid back," according to a letter obtained by the San Diego Tribune.
The purchases were made from October 13 to December 16, but no money was actually returned.
Hunter's spokesman, Joe Kasper, said that Hunter's teenage son had used the congressman's credit card to legitimately purchase a game on Steam, a major video games platform, but then a multitude unauthorized charges followed. Kasper said that Hunter wants to see the charges reversed before reimbursing the campaign account.
The FEC sent out its letter of inquiry on Monday, which asked the congressman to provide an explanation for the expenses. It also said the FEC was seeking reimbursement. Hunter has until May 9 to respond to the letter.
The California Republican has made no secret of the fact that he's no enemy of video games. In an opinion piece published in Politico, he defended violent games and warned against scapegoating them in the aftermath of tragedies.
"The narrative that children and young adults today stare at television and computer screens, developing lethal skills through first-person gaming experiences, disingenuously portrays video games as having a corrosive influence," Hunter wrote. "The problem with this rationale is that it conveys an image that America's youth are incapable of discerning right from wrong, which simply is not true."
Hunter has also made his distaste for government paternalism clear, which also extends to the regulation of e-cigarettes. During a February hearing on the use of the vapor nicotine products on airplanes, he attempted to demonstrate how harmless the product was by taking a long drag right on the House floor.
"This is a vaporizer. There's no combustion, no carcinogens," Hunter declared after exhaling a plume of vapor during the debate.
You can share this story on social media: