Wisconsin primary results: Bernie Sanders and Ted Cruz win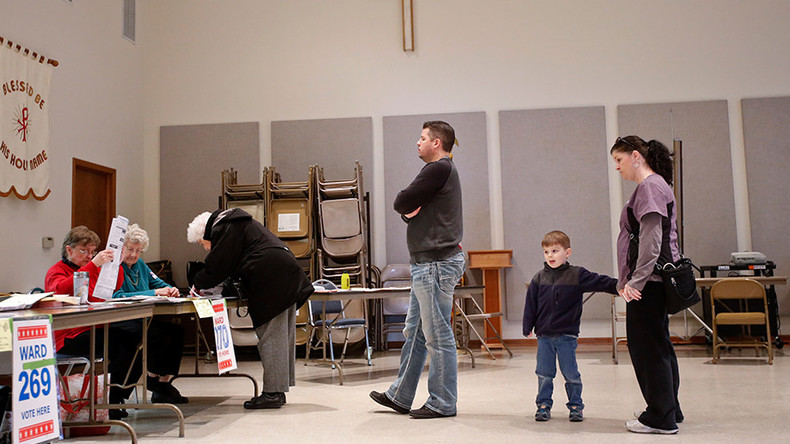 Wisconsinites stood to make history, and for many that was literally the case, as they queued in long lines for hours to vote. Both the Republican and Democratic front-runners were expected to falter, however, as the challengers rose to the occasion.
With 7 percent of precincts reporting, Senator Ted Cruz was declared the winner of the Republican primary, carrying 49.1 percent of the vote to Donald Trump's 34.6 percent, and Ohio Governor John Kasich's lagging 13.8 percent, according to the Associated Press.
With 21 percent of precincts reporting, Senator Bernie Sanders won with 53.2 percent of the vote to Hillary Clinton's 46.6 percent.
"Let me remind everybody that we've got a really important caucus here on Saturday," Sanders said in his victory speech to a crowd in Laramie, Wyoming. "With our victory tonight in Wisconsin, we have now won seven out of the last eight caucuses and primaries, and we have won almost all of them with overwhelming landslide numbers. What momentum is about, is that at this time in contemporary politics, when every major candidate has a Super PAC, we have said no to Super PACs."
Sanders added that Clinton was getting "a little nervous" about the upcoming April 19 primary in New York, where she served as US senator. Sanders was born in Brooklyn.
"I am more and more convinced that our campaign is going to earn the 1,237 delegates needed to win the Republican nomination," Cruz said in his victory speech. "Either before Cleveland or at the convention, together we will win the majority of the delegates and together we will beat Hillary Clinton in November."
Cruz walks out of Wisconsin with the 24 delegates awarded to the overall state winner, but 18 still remain to be distributed based on congressional district vote wins, which Trump is likely to share in.
Sanders garnered 29 delegates for winning the state, but will certainly share with Clinton many of the 57 distributed proportionally according to the results in congressional districts . There are also 10 superdelegates to be won, though they are unbound.
Read more: Wisconsin primary preview
The Wisconsin primary was yet another this year that has tested the patience of voters, with some people waiting in line for hours to cast their ballots. The longest queue was in Green Bay at the University of Wisconsin, where just two ballot boxes were in operation, while brand new voters waited to register in the same single-file as every returning voter.
According to SMG Delta, Senator Sanders' campaign spent the most on the state primary, dropping $2.4 million on ads, compared to Hillary Clinton, who unloaded $931,000.
On the Republican side, the biggest spenders weren't any particular campaign, but the anti-Trump groups Our Principles PAC and the Club for Growth, which together spent $2 million on advertising. Trump campaigned in the state on a comparatively penny-pinching $500,000.
Senator Ted Cruz, the Republican favorite to win the Badger State, along with his supporting external organizations, kicked in a total of $1.4 million. Ohio Governor John Kasich and his supporting groups threw in $970,000.
Here is how the candidates pitched themselves on social media on the day many undecideds had to make the difficult choice: