Wisconsin primary: Bernie Sanders and Ted Cruz fight for momentum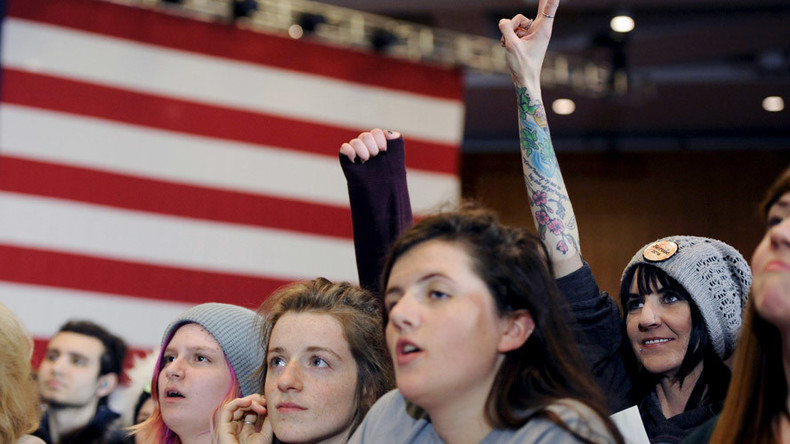 Hillary Clinton and Donald Trump are preparing for the worst as their challengers, Senators Bernie Sanders and Ted Cruz, walk into the Badger State as the odds-on favorites. The future shape of the presidential primaries rests on the voters of Wisconsin.
Super Tuesday is long gone, and it seems as though April 5 could end up having more impact on the 2016 race than March 1 did when over a dozen states voted.
In Wisconsin, where voters will drop ballots from 7am to 8pm, the goal for all presidential candidates isn't necessarily to rack up more delegates, although that would be nice. The greater prize has to do with momentum, a sense of overcoming the odds to emerge a new victor or otherwise to solidify unstoppable dominance.
2 weeks from New York, Bernie and Hillary vie for hometown favorite
With the April 19 New York primary around the corner, the Brooklyn-born senator from Vermont, Bernie Sanders, could really use a Wisconsin victory boost to compete with the former New York senator Hillary Clinton.
Clinton has 1,243 delegates to Sanders' 980, a big difference when considering 2,383 is the finish line, and many of those are superdelegates, elite loyalists to the Democratic Party and, consequently, loyalists to the front-runner.
Sanders stands to make a dent in that lead tonight. Winning Wisconsin would mean the self-described democratic socialist had been victorious in the last six of seven contests. The Real Clear Politics average, an accumulation of seven polls in the last 13 days, has Sanders up, 47.9 percent to Clinton's 45.3 percent.
In Wisconsin, there are 86 delegates and 10 superdelegates at play. Of the 86 delegates, 57 are distributed by proportion to the vote in the state's eight congressional districts, while the other 29 will go to the winner of the state overall.
Clinton may already be bracing for a Wisconsin loss as she was campaigning in New York on Monday, although her target wasn't Sanders. It was Trump, and already in general election mode, the former secretary of state attacked his position on the minimum wage.
"I don't know what the calculation is by Trump and others but I'll tell you this: They are selling Americans short," Clinton said, Reuters reported.
The other big challenge for Sanders tonight could be with the state's voter ID law. Out-of-state college students won't be able to vote with only a college ID, but have to provide a recent tuition bill, while in-state students can use a driver's license and utility bill. Sanders has fared well with young voters, and the polls are close enough that they, or the voter ID law, could make all the difference.
Will the #NeverTrump movement cause a brokered Republican convention?
With 42 delegates at stake, Senator Ted Cruz is polling well enough to potentially fundamentally alter billionaire businessman Donald Trump's mathematical path to the nomination. Of those 42, 24 will be rewarded based on placement in congressional districts, while the remaining batch will go to the overall winner.
In order to secure the GOP presidential nomination, a candidate must attain at least 1,237 delegates. Going into Wisconsin, Trump has 737, Cruz has 475, and the stubborn and/or committed Ohio Governor John Kasich has 143. With just 930 delegates left at play, Kasich's only shot is at an open convention, also known as a brokered convention, where even a surprise fourth name could be introduced as a nominee.
Trump campaigned in La Crosse, Wisconsin, where he predicted a "very, very big victory," but he must have received advice, possibly from himself, to tone down the hype. At a following event, he said, "if we don't win here, it's not over, but wouldn't you like to take the credit, in Wisconsin, for ending it?"
"And then we can focus on Hillary instead of these two guys," Trump added. The front-runner has also played on themes of being up against an unfair system, helmed by the media, former presidential candidate Wisconsin Governor Scott Walker and his endorsed choice, Cruz.
Cruz, for his part, is playing up his leadership bona fides, telling a Madison crowd, "What we're seeing is the party unifying behind our campaign."
The Real Clear Politics average has Cruz leading by 4.1 points. Trump polls at 34.9 percent to Cruz's 39 percent. Kasich has about 19.6 percent in the polls.