Zoos barred from allowing visitors play with young tiger & bear cubs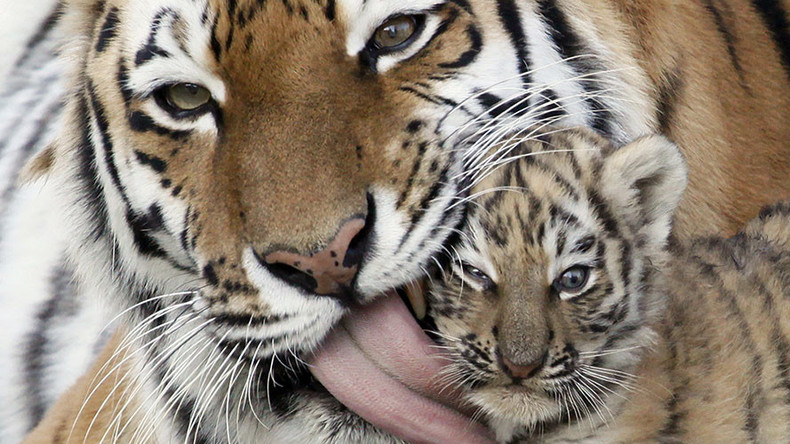 Animal welfare groups have secured a victory in their fight against roadside zoos that allow members of the public to play with young exotic animals, including baby bears, tigers, and lions.
Following complaints from several animal rights groups, the US Department of Agriculture (USDA) has issued a warning notice to zoos that separate cubs under four weeks old from their mothers and use them for public entertainment.
In their petition asking the USDA to prohibit public contact with "big cats, bears, and nonhuman primates," animal rights groups cite research which found that cubs prematurely separated from their mothers suffer from nutritional deficiencies and "are denied opportunities for normal social and psychological development."
The petition also states that zoos separate cubs from their mothers early on so that the young animals will "remain submissive for handling by humans for several years."
At some zoos, visitors can pay $50 to take a photo with baby big cats and up to $300 to feed or play with the exotic animals, reports the Guardian.
The Humane Society, an animal activist group, recorded undercover evidence showing two roadside zoos in Oklahoma and Virginia hitting cubs to prevent them from scratching or biting paying customers. (Warning: the video contains strong language.)
The group claims that one cub posed for 30 photo sessions and took part in five 30-minute play sessions in a single day, meaning just one cub could generate up to $65,000 during the course of a single summer.
According to the notice recently released by the USDA, "newborn and infant nondomestic cats four weeks (28 days) of age or younger...have special handling and husbandry needs" and must be "handled safely and protected from harm," including public feeding and handling.
Zoos allowing cubs to be handled by members of the public or separating them from their mothers before four weeks of age will be in violation of the Animal Welfare Act and face prosecution.